6 Tips For Eating Healthy At Restaurants In Dubai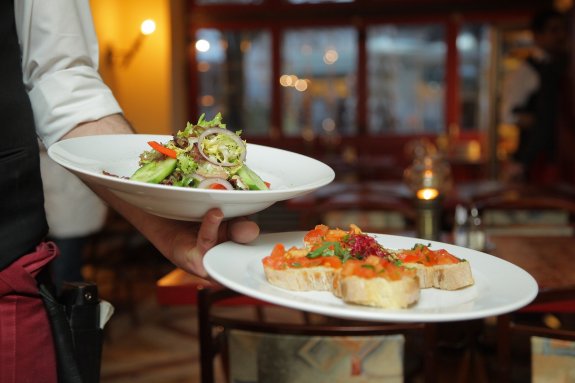 Eating out and eating healthy are not exactly synonymous terms, but many restaurants have already successfully blended these two elements together or are currently trying to do so.
Owners of dining establishments in Dubai, for instance, are encouraged by the Ministry of Health and Prevention under the Healthy Restaurant Initiative to have staple healthy menu options for adults and younger customers.
As such, whether you want to eat simple lunch fare at a cafeteria in Bur Dubai or Deira, or dine in one of the upscale eating joints in Dubai Marina or restaurants in DIFC, Dubai, you will always have well-balanced dishes to choose from.
Dining Out – Minus the Guilt
But you don't have to wait for your favorite restaurants to revamp their menu or look for one that serves only vegan dishes to start eating healthy. You can eat out without feeling guilty or having to double the time you spend at the gym next day by following these tips:
1. Don't go to a restaurant on an empty stomach
If you want to skip meals or snacks so that you can eat to your heart's content, don't; you will end up ordering unhealthy menu options and overeating. Eat breakfast and a small snack in the morning even if you're going to meet your friends for lunch.
Don't skip lunch, drink a protein shake or munch on some nuts in the afternoon so you don't arrive for your dinner date starving.
2. Stay away from "unhealthy" dishes
Deep-fried, batter-coated, smothered in sauce, chocolate-covered – these are cooking or food preparation methods that boost the fat and calorie content of any dish. As such, stay away from these kinds of dishes when perusing the menu.
Opt for grilled or steamed meat, fish or vegetables to avoid extra calories. You can also skip the sauce or ask the wait staff to serve this separately in a bowl or saucer so that you can control the amount you consume.
3. Opt for healthier choices
Aside from avoiding dishes that are prepared through unhealthy cooking methods, take steps to make your menu choices healthier as well.
For instance, if you are hankering for some fried chicken, compromise and order grilled chicken breast. Instead of having French fries as the side dish, order salad. You can also request for more veggies to be added to your sandwich, wrap, and even on your pizza.
If the restaurant offers whole wheat or whole grain buns, tortilla wraps, pita bread, pasta or pizza crust, opt for those since they are healthier options.
4. Practice portion control
Restaurants usually serve portion sizes that are bigger than what you would normally eat at home. You can avoid all the extra calories from these larger serving sizes by asking for a half portion or sharing the meal with your companion.
Another way to practice portion control when dining out is to eat only until you are full. Don't force yourself to finish your meal simply because you don't want the food to go to waste. You can always take your leftovers home and have them for later.
Practicing portion control is also a great way to give in to your cravings. If you want to order dessert, do so, but share that slice of cheesecake or apple pie with your dining companions.
5. Order healthier drinks
Food is not the only cause of gaining unwanted pounds whenever you eat at a restaurant; beverages are unhealthy culprits, too.
Artificially flavored fruit juices, carbonated drinks, and alcoholic beverages are all loaded with calories and unhealthy amounts of sugar. Rather stay away from these beverages. It is best to order unsweetened iced tea, sugar-free or honey-sweetened fresh fruit smoothies with yogurt (no milk), or a glass of water instead.
6. Give yourself a treat
When it comes to eating healthy, balance is the key. This means giving in to your cravings from time to time like wanting to dig into the best burger in Dubai. However, make sure you order a salad instead of fries on the side. This also means skipping the soda and sundae for dessert. Of course, you also have to commit to eating healthier in your next meals.
By making smart and healthier choices, you can enjoy delicious meals and still have a great time whenever you eat out, whether in Dubai or elsewhere.
AUTHOR BIO
Kunal Lahori
Kunal is a passionate leader, boasting a long track record of successful management across a variety of business industries in the UAE. He founded Bazxar in the DIFC, the most exciting bar in the city that looks, feels and tastes like nowhere else in Dubai. He is also notably the founder of the award-winning El Sur, a contemporary Spanish restaurant located in the Westin Dubai. In addition, he is the founder & CEO of Pret To Go, a brand of organic and healthy cafes located across the UAE in 8 business clusters in Dubai and Abu Dhabi Airport.