Lip-smacking Raksha Bandhan Recipes for your Brother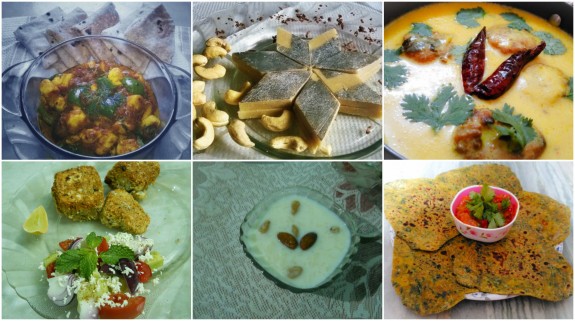 So friends it is time to celebrate the eternal bond between brother and sister. So, what are you looking for some yummy recipes to amaze your brother? Yes, truly Rakshabandhan, is a day for feasting. With the occasion round the corner; we have some exciting dishes to suggest.
Surprise your brother with r homemade kaju katli. All you would need are 150 grams of cashew nuts, 400 grams of sugar, 500 grams khoya and a little cardamom or elaichi powder. Grind the cashew nuts to a fine powder. Grate khoya and add sugar to it and mix the two thoroughly. Put the mixture in a hot pan and stir the mixture well untill the sugar dissolves. To this mixture add cashew powder and elaichi powder and cook the mixture till soft lumps form and the mixture does not stick to the sides. Place the dough on butter paper and roll it to desired thickness. Let the dough cool and cut it into diamond shape pieces. Your kaju katli or kaju barfi is ready.
This Punjabi kadhi pakora recipe can surely be a part of your elaborate lunch or dinner menu. Whisk one and half cups of curd and to it add 8 tsps of besan, chili powder, turmeric powder, and salt and garam masala powder. Add 3 cups of water and mix well to get a smooth mixture. Now for the pakoda take one cup besan and to it add sliced onion, salt, chili powder and garam masala powder and mix well. Add water to get the batter of required consistency. Heat oil in a pan and drop the batter in hot oil. Fry the pakoras and place them in a plate. Now in another pan heat 2tsp of oil and to it add mustard seeds, cumin seeds, ginger garlic paste, dried red chilis and curry leaves. Fry the ingredients for a few seconds. To this add the curd mixture and cook the kadhi on a low flame with constant stirring till you get the right consistency. Put in the pakodas to the kadhi. Garnish with coriander leaves and dry red chilis. Serve hot with chapattis and rice.
Lavish lunch or dinner is incomplete without a great paneer recipe. For this prepare the kadai masala by mixing together dry roasted and crushed coriander seeds, cumin seed and red chilis Now heat oil in a pan and add bay leaf,  whole cardamom, cinnamon and cloves and fry for few seconds. Fry the chopped onions and now add ginger garlic paste stir for few seconds. Now add chopped tomatoes and cook them well. Now add the kadai masala, turmeric powder, chili powder, kasoori methi and salt. Mix and cook the gravy well. To this add the diced paneer. Cook for few minutes and garnish with coriander leaves.
Crispy potato balls make a great side dish. Mix mashed potatoes, cheddar cheese, parmesan, chopped green chilies, chopped garlic, salt, pepper and paprika. Mix well and make small balls. In a bowl mix corn flour, salt and water. Dip each ball in the batter then dip them in bread crumbs and deep fry the balls till they are golden brown. They taste delicious.
It is festival time and hence it makes sense to check out one more sweet dish. Boil one-liter milk and keep half of the boiled milk in a separate bowl. To the residual milk add 1and 1/2 cups water and boil again. To this add a 1/3rd cup of basmati rice and let it cook. When the rice is cooked completely add ½ cup sugar and remaining milk and stir well. Now cook the mixture till you get a thick consistency. Now add cardamom and dry fruits. Payesh is ready.
Add a punch to your festive meal with this yummy salsa. Dice the cucumber and to it add chopped red and green chilis, chat masala, black salt and fresh lemon juice and mix well. Serve this tangy salsa with your other delicacies.
On this special occasion make sure that you express your affection for your brother or sister with a lovely gift. You could give your sister a box of assorted chocolates. Sisters can make some really mouth watering sweets at home for their brothers. This could be delicious boondi ladoos or maybe you could bake a cake and gift it to your brother on this special day. Enjoy and make this Rakshabandhan memorable.