Aamras
2016-06-30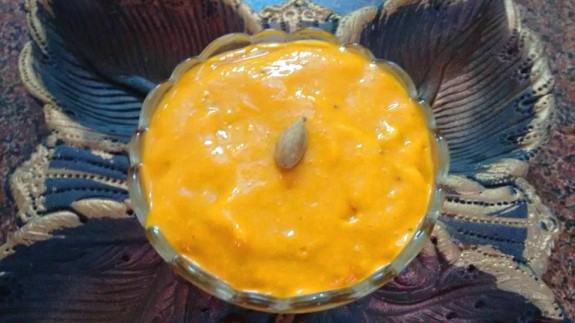 Aam means Mango and Ras means Juice. So, simply you can say this as mango juice but in Indian style. Aamras is a great summer delight in a bowl. This is a very popular dish in Gujarat and Maharastra but people from various part of India would definitely like to have this dessert.
Ingredients
3 to 4 medium size mangoes or 400 grams mangoes
½ tsp cardamom powder
sugar or jaggery as per the requirement (optional)
pinch of saffron or kesar(optional)
milk or water as required
¼ tsp dry ginger powder
Method
Step 1
1. Rinse the mangoes, peel and chopped them. 2. Blend the mango pieces to mak mango pulp through blender. 3. Add cardamom powder, saffron, milk and sugar and again blend it well. 4. To thin down the aamras, you can add little more milk or water into it. Add dry ginger powder and mix it. 5. Pour in a small bowl and keep it in the refrigerator. 6. You can add chopped dry fruits into the aamras and serve this with pooris or chapattis.