Aloo Chaat
2015-11-08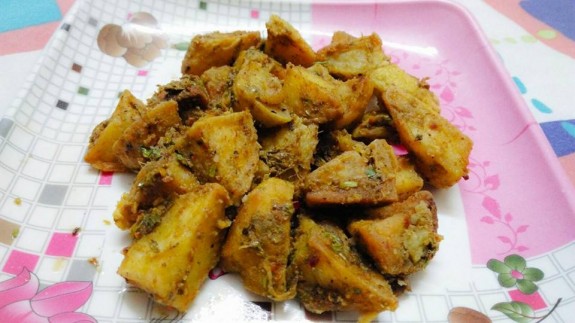 Toss with tamarind chutney and other spices,  Delhi Aloo Chaat is so yummy that if you take once, you should try another time too. Must try this recipe at home.
Ingredients
3 large potatoes cut into ½ inch cube
1 large onion chopped
2 green chilies chopped
2 tsp lemon juice
4 tbsp fresh tamarind chutney
2 tbsp mint chutney
1 spring onion chopped
½ tsp red chili powder
½ tsp chaat masala powder
salt as per taste
Method
Step 1
1. Deep fry the golden potato until golden brown in colour. 2. Add chopped onion, green chilies chopped, lemon juice, chopped coriander leaves, tamarind chutney, mint chutney and spring onion chopped and mix it well. 3. Add chaat masala powder, red chili powder and salt and again mix well. 4. If you want, you can add ginger stripes into the mixture. However, it is optional. 5. Transfer it in a serving plate and serve it hot.