Aloo Kumror Chakka
2018-02-17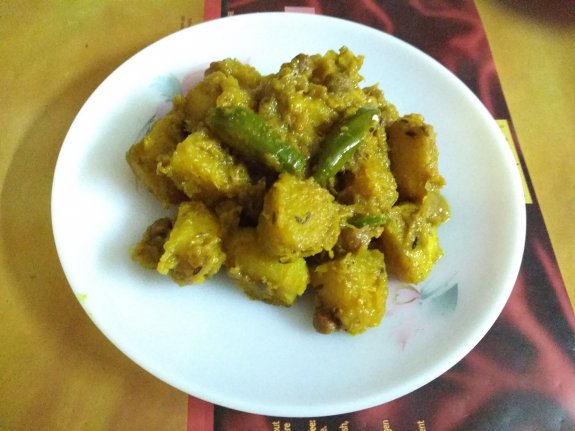 This is a traditional Bengali dish made with sweet pumpkin mixed with potato. It is a complete Vegeterian dish with no use of onion or garlic. I am using as cumin seeds (Jeera) as Phoron but I found different people use different Masala as Phoron like some of my friend uses phoron like Kaalo Jeera (Kalonji Seeds), Paanch Phoron and Red Chili. So, it is better to find your own style and make your own Kumror Chakka. You can have this with Luchi, poori, paratha or roti.
Ingredients
1/3 Cup overnight soaked Chola or Kala Chana(black chick peas)
250 grams Pumpkin (Kaddu or Kumro) peeled and chopped in cubes
250 grams Potato (Aloo) peeled and chopped in cubes
½ tsp Cumin seeds (Jeera)
¼ tsp of Hing
1 dry red chili
½ tsp dry roasted cumin powder (Jeera powder)
½ tsp dry roasted coriander powder (Dhania Powder)
2-3 green chilies chopped
1 tsp Garam Masala powder
2-3 Tbsp white oil
Salt as required
Sugar as per taste
½ cup warm water or as required
½ tsp of ghee
Method
Step 1
1. Heat white oil in a Kadhai or Pan. Now, add hing, cumin seeds and dried red chilli. 2. When the spices splutter, add the potatoes. Add little salt and turmeric and fry the potatoes till light golden in colour. 3. Now add all the spice powder, cumin powder, coriander powder and garam masala powder and mix them well with potato. Now, add green chilies chopped and mix everything. 4. Now add pumpkin and sauté for 2-3 minutes till the masalas are mixed well with pumpkin.You can add little sugar also. Sprinkle little water and cover it with lid. 5. After 1-2 minutes, remove the lid and stir everything. Add soaked Chola or Kala Chana. 6. Now, add ½ cup of warm water and cover it. Check in between and give a good stir. Cook till both potatoes and Pumpkin is done. 7. Now, sprinkle garam masala powder and ½ tsp of ghee and mix well. Switch off the flame and serve it hot with Roti, Paratha or Poori or Luchi.