Aloo Pratha or Potato Stuffing Paratha
2018-06-16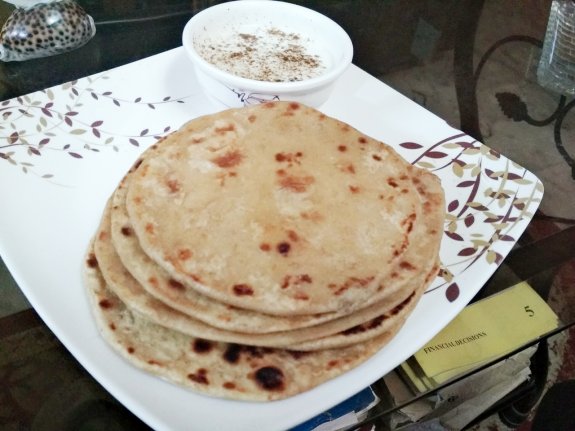 Aloo Paratha is one such recipe which is universal appeal. People from different part of India make different types of Aloo Paratha. North Indians love to make Punjabi Aloo Paratha for any time of the day whether it is breakfast, lunch or dinner whereas some use to add onions on the aloo stuffing and some not.
Aloo Parathas are made with affection, love and lots of care. Parathas are being roasted in ghee and serve with butter. However, you can also roast the parathas in oil also. The soft and tasty filling of potato flavoured with some spice with some amchur powder, gives it a tangy and enjoyable flavour.
The best way to serve this Aloo Paratha or Potato stuffing Paratha is to serve them hot with Aachar or Pickles and Raita or Curds.
Ingredients
For making potato stuffing or aloo stuffing:
3 to 4 big size Boiled Potatoes – Peeled and mashed
2-3 green chillies chopped
½ tsp kashmiri red chilli powder (optional)
½ tsp Punjabi Garam Masala powder
½ tsp cumin or zeera powder
½ tsp dry mango powder or amchur powder
3 -4 tsp chopped coriander leaves
salt as per taste
For making Paratha dough:
2 Cups of Whole wheat flour or ata
1 to 2 Tbsp oil or ghee
½ tsp Salt or as required
Water as required to knead the dough
oil or ghee required to roast the paratha
Method
Step 1
1. Boil the potatoes. Peel and mashed them with potato masher. Potatoes need to be mashed very well so that any small lumps would not be present in it. 2. Now, add green chillies, Garam Masala powder, amchur powder, zeera powder, kashmiri red chili powder and coriander leaves and mix them with the potato mixture very well. Check the taste ad if required add more salt and spice powder. 3. Take another bowl and put whole wheat flour in it. 4. Now, add salt, oil and about half of the water. 5. Mix everything and knead into soft smooth dough. 6. Cover and keep the dough aside for 20 to 30 minutes. 7. After 30 minutes make medium size bowls from the dough. The balls should be such bigger that you can add stuffing into it. 8. Now, take the ball on your left palm and with the help of your fingertips make a deep well on the center of the ball. Press lightly from center to side. When the well is deep enough, place the potato stuffing into it. Now, close it by taking all the edges in the center (start pleating it like momos) and press it tightly so that while rolling the ball the potato stuffing will not leak out. 9. Now, dust the ball with some whole wheat flour and with a rolling pin, roll it to about 6 to 7 inches or more in diameter rounds o about the size of a normal roti or paratha. 10. Now, on a hot tawa or griddle or skillet, place the rolled paratha. 11. The tava need to be hot as cooking parathas on low heat will harden them. Parathas must be soft as well as crispy. 12. When one side is partly cooked, flip the other side. /br> 13. Now, spread some oil or ghee on the partly cooked side of the paratha. 14. Flip again and again add some ghee or oil on the other side. This time both sides will c0oked more than the previous one with well made and well roasted paratha. The paratha will puff up and you can flip again once or twice. 15. So, your aloo paratha is ready to serve. Do the same process with all other balls from the dough to make rest of the parathas. 16. Serve hot Aloo paratha with curd, riata or pickles.