Apple Jalebi
2015-10-07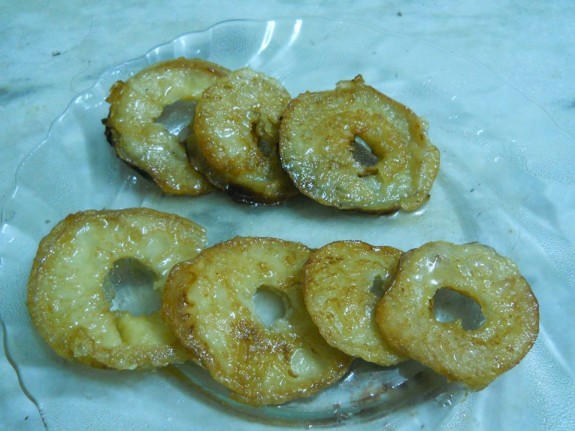 Prep Time : 15m
Cook Time : 20m
Apple Jalebis are prepared by doing the deep fry of round shaped apple pieces and soak in sugar syrup.
Make this tasty yet unique form of Jalebi recipe from The Masala Route.
Ingredients
1 big size Apple
1 cup of Sugar
2 Cardamoms
5 tbsp refined flour
2 tbsp rice flour
2 tbsp semolina
Oil for frying
Method
Step 1
Syrup: 1. First make the syrup. For this you need to combine 1 cup of sugar in 1 cup of water in a pan. 2. Boil it for 8-10mins or till the sugar dissolves completely and come to an 1 thread consistency. 3. Then add cardamom and again cook for 2 minutes.
Step 2
Jalebi: 1. Make thin slices from the apple. With the help of the ring cutter, cut the middle portion of the apple slices. 2. Make the batter by combining semolina, rice flour and refined flour. Add required amount of water to make a semi thick batter. 3. Heat oil in a pan. Dip each apple slice on the batter carefully and fry them in the oil in medium flame. 4. Now dip the fried apple slices in the sugar syrup and keep each slice for 1 minute. 5. Take them out and your Apple jalebi is ready to serve hot.