Bread Upma
2015-11-27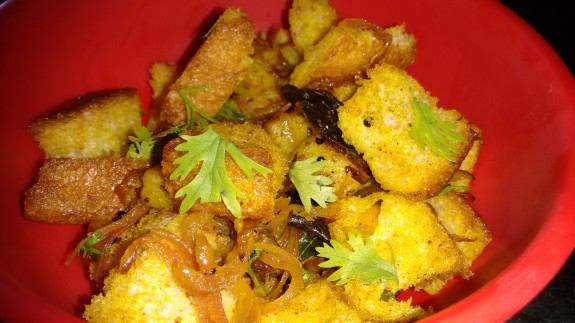 Today you were wake up little late in the morning and don't have enough time to cook something for you and your family? So, here it come quick and easy breakfast recipe "Bread Upma" that will also change the taste buds from the bored bread sandwich.
How to Make Bread Upma ?
Ingredients
5-6 slices of bread (white or brown)
1 large potato diced
8-10 curry leaves or you can use chopped coriander leaves
4-5 lemon leaves
1 large onion chopped
1-2 green chillies chopped
1 large tomato chopped
4 Tbsp oil
1 tsp turmeric powder
¼ tsp black mustard seeds
1 tsp lime juice or as per taste
salt as per taste
Method
Step 1
1. Cut the crust of the bread from the side. Now cut the breads into cubes. 2. Heat oil in a pan and add the mustard seeds. 3. When the mustard seeds start cracking, add lemon leaves and diced potatoes. Fry the potatoes for few minutes until it becomes soft. You can fry the potatoes at the beginning and keep it aside. 4. Now add chopped onions and sauté them in medium heat until onions turns into brown. 5. Add turmeric powder and tomatoes. Fry it for 3-4 minutes until tomatoes soften. 6. Now, add lime juice, salt, bread cubes and stir gently until everything mix properly and the bread cubes turned into yellow. Now add chopped coriander leaves and mix well. 7. Remove the dish from the flame and serve it hot.
Some More Breakfast Recipes:
Kanda Poha
Vegetable Rava Upma
Bread Rava Toast
Potato Carom Seeds Grilled Sandwich
Junglee Chicken Sandwich
Eggless Mango Mint PanCake
Bread Pizza
Bread Toast or Bread Besan Toast
Instant Rava or Sooji Uttapam
Potato Omlette
Matar Kachuri or Karaishutir Kochuri
French Crepes
Egg Mayo Sandwich
Paneer Paratha