Chanar Dalna
2015-10-15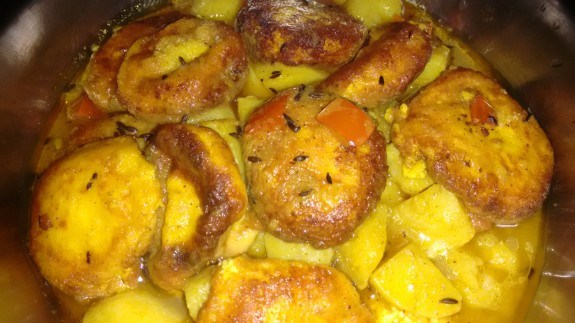 Prep Time : 60m
Cook Time : 1:30 h
So make Chaana/Paneer as household recipe and create the Chanar Dalna with this household Chana that is really very tasty and delicious. Get more such recipes at TheMasalaRoute Bengali Recipes Section.
Ingredients
For Fried Chana flat ball:
1 ltr milk
1 tsp calcium lactate/2 -3 tbsp lemon
2 tbsp maida
1/2 tsp turmeric powder
1 tsp cumin powder
1 tsp red chili powder
1 tsp ginger paste
1 tsp green chili paste
salt as per taste
sugar as per taste
vegetable oil to fry
For Dalna:
1 medium size potato
1 tsp whole cumin seeds
½ tsp turmeric powder
1 tsp cumin powder
1 tsp red chili powder
1 tsp ginger paste
1 tbsp ghee
1 tsp garam masala powder
sugar as per taste
1 bay leaf
salt as per taste
oil as required
Method
Step 1
Chana Preparation: 1. Boil 1 ltr milk. 2. Once the milk start rising, add 3 tbsp of lemon juice or 1 tbsp of calcium lactate. 3. The milk start curdling and the solid portion will be separated from water. 4. Drain out the water with a cloth. 5. Squeeze the excess water from the chana well. You can also hang it about an hour to drain all the water from it.
Step 2
Fried Chana flat ball or Chana Cube: 1. Knead the Chana properly till you feel oil in your palm. 2. Mix maida, turmeric powder, cumin, red chili powder, little salt, little sugar, ginger and green chili paste with Chana and knead everything well. 3. Take little portion of chana and make a ball and flat it with your palm. Do the same thing with the rest of all the Chana equally. 4. Heat oil in the pan and fry all the Chana flat ball until it becomes light brown. 5. Separate it from heat and place it on a oil soaking paper to soak the excess oil.
Step 3
Dalna: 1. Mix the potato cube with little salt and turmeric powder. 2. Add the potatoes on the left over oil to fry till they light soft and light brown. 3. Keep the potato aside and drain out the excess oil. 4. Mix cumin powder, red chili powder, turmeric powder, ginger paste with some water to make a thick paste. 5. Heat oil in another pan and add cumin seeds and bay leaf. 6. As they start spluttering add masala paste and sauté it properly. You can add little salt but remember as you add salt previously with potato and chana ball. Add 2 tsp sugar and sauté all the ingredients properly. 7. Add fried potato cubes and mix well to coat the potatoes with spicy. Pour 1 ½ cup of warm water and let it cook for 5-6 mins till potatoes done. 8. Put the friend chana flat ball and cook for maximum 2-3 minutes. Be aware while cooking the chana as stirring it on the pan excessively may break the chana. 9. Add garam masala powder and ghee and serve it hot with rice.