Chilli Paneer Recipe
2015-12-30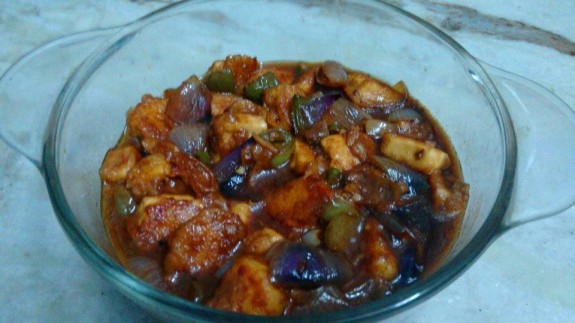 I am a huge fan of Paneer and I must say that Chilli Paneer is one of my favourite Chinese side dish. I mainly prepare this food with diced capsicum and onions rather than using spring onions because of not having in my kitchen. But it is suggested that spring onions make this dish as proper Chinese dish and give you the ultimate taste of Chilli Paneer.

Ingredients
For Frying the Paneer:
250 grams Paneer/ Cottage cheese – cut into cubes
2 Tbsp corn flour
½ tsp black pepper powder
½ tsp chopped garlic
1 tsp tomato and Soya sauce
salt as required
oil to fry
For the Gravy or Sauce:
1 Tbsp Soya Sauce
1 large onion – diced
1 large capsicum – diced
2 crushed schezuan pepper
2 tsp chopped ginger garlic
4-5 green chillies
½ tsp vinegar
1 Cup Veg stock or warm water
1 Tbsp corn flour dissolved in 3 Tbsp water to make corn flour paste
2 Tbsp sesame oil
½ tsp black pepper powder
1 Tbsp Soya Sauce
½ tsp red chilli powder
½ Tbsp Tomato Sauce
salt and sugar as required
Method
Step 1
To Fry the Paneer: 1. Take a large bowl and add corn flour, black pepper powder, garlic chopped tomato sauce and soya sauce and mix everything well. 2. Add little water to make a thick paste of all. 3. Now add paneer cubes on this and marinate it and keep it aside for at least half an hour. 4. Heat oil in a pan and shallow fry the paneer cubes. 5. Keep the paneer aside. Preparing Sauce: 1. Heat sesame oil in a pan and lightly fry the diced onions and capsicums. Keep it aside. 2. Now add the ginger garlic paste or chopped ginger garlic in the oil and stir fry it till the raw smell disappears. 3. Now, add the green chillies, black pepper, schezuan pepper and lightly stir it. Pour the veg stock or warm water and stir. 4. Now add red chilli powder, tomato sauce, soya sauce, sugar and salt. Mix everything well and simmer. 5. Add corn flour paste and stir well. Let it cook for 1-2 minutes to make the sauce thicken. 6. Now add the fried paneer cubes and simmer for 1-2 minutes. 7. Garnish with spring onions and serve it hot.