Chocolate Dry Fruits Balls
2015-12-06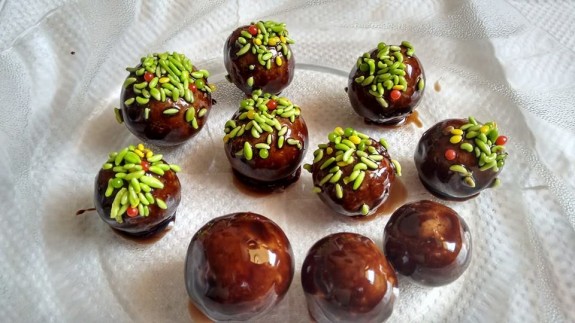 This is fun recipes for kids as they love to eat chocolates and even adults can also enjoy it. This recipe does not require any cooking, so if you want to make fun with your kids, you can involve them too. Kids would definitely love to enjoy this food in Christmas or any other time.
Ingredients
6-7 Marie Biscuits
2 Tbsp chopped roasted dry fruits (almonds, cashew nuts, pistachio etc.)
1 Tbsp Cocoa powder
1 Tbsp liquid chocolates
3 Tbsp condensed milk
3 Tbsp dark chocolate syrup for coating
2 tsp Colourful Vermicelli for coating
Method
Step 1
1. First put all the Marie biscuits in a blender to make a powder of it. 2. Take a bowl and pour the biscuits into it. Now add cocoa powder, chopped roasted nuts, 1 Tbsp liquid chocolates and condensed milk and mix all the ingredients properly to make it dough. If you need more condensed milk, you can add it so that you can make small balls from the dough. 3. Now take a little bit of dough and roll it into a round shape to make a ball. Now add the ball in the liquid chocolate to give a chocolate coating on it and keep it in a plate. Do the same process with the rest of the dough. 4. Now you can sprinkle the colourful vermicelli on the chocolate balls and present it.