Dhokar Dalna
2015-10-14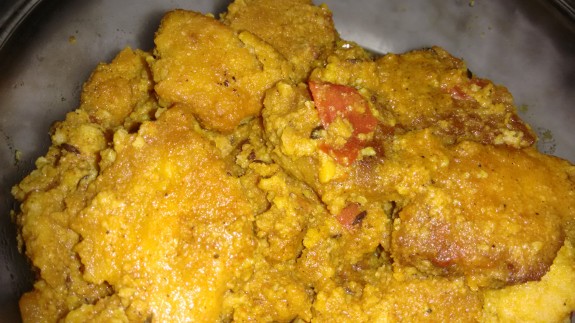 Prep Time : 60m
Cook Time : 60m
Dhokar Dalna is the speciality of Bengal and it can't be called as easy recipe as it shows.
Ingredients
250 grams split chick peas or chana dal
2 tomato chopped
1 tsp cumin seeds
2 tsp cumin powder
6 tsp cooking oil
½ tsp turmeric powder
½ tsp garam masala powder
2 bay leaves
3 tbsp green chilly paste
2 tsp salt to taste
sugar as per taste
1 tbsp ghee
Method
Step 1
Chana Dal/Split Chick Peas Paste: 1. Soak the chana dal fir 5-6 hours in normal water. 2. Drain out the excess water. 3. Add 2 tsp ginger chilli paste and 1 tsp salt and sugar. 4. Grind everything using a mixer to form a smooth paste of Chana dal.
Step 2
Fried Cubes: 1. Heat 2 tsp oil in a pan. Add the Chana dal paste and fry it until the semi liquid state is lost. It will become a light dry paste. 2. Take a dish or steel plate and spread 4-5 drops of oil on the surface. Spread the oil. 3. Take the paste from the pan and spread it evenly on the dish/plate. 4. Cut the spread into diamond shaped cubes and keep it aside. 5. Now tale another pan/kadai and add 5 tbsp oil into it. Allow it to heat and then deep fry the cubes in this oil. 6. Keep the Fried cubes aside.
Step 3
1. In the left over heated oil, add cumin seeds, bay leaves and fry it. 2. Add the chopped tomatoes and allow it to cook for 1-2 mins. 3. Add the ginger chilli paste, turmeric powder, red chilli powder, cumin powder, salt and ¼ tsp sugar. Stir everything well. 4. Add 2 cups of water and let it come to boil. 5. Add the fried cubes and allow it cook for 5-6 mins. 6. Add little salt, garam masala powder and ghee to taste. Cover the pan with lid and cook for 1-2 mins. Turn off the flame and serve it with rice.