Dudh Pithe Puli
2016-01-10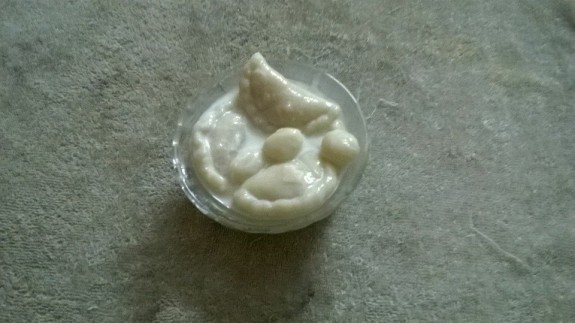 Dudh Puli is Bengali traditional food mainly stuffing with coconut and date pal jiggery and the shell is made with mainly rice flour.

Ingredients
For Shell/Puli:
1 Cup rice flour (Mainly boiled rice flour and non boiled flour is mixed together in 2:1 ratio. But it would be better, if you buy rice flour from store)
½ cup of boiling hot water
For Stuffing:
1 Cup Grated coconut
½ Cup condensed milk/sugar
For the Kheer/Milk:
1.5 ltr full cream milk
6 Tbsp Sugar
2-3 crushed green cardamom
Method
Step 1
For Stuffing: 1. Mix coconut and sugar properly. Now take a large pan and heat it on the medium flame. Add desiccated coconut and roast it for 2-3 mins on medium low flame. Add little sugar and condensed milk into pan. Try to mix it with coconut flakes. 2. Once the coconut mixture is not sticking to the pan, switch off the flame and transfer it immediately into a flat wide plate to cool off.
Step 2
For the Shell/Puli: 1. Take the rice flour in a large bowl and add hot water in it. While pouring water in one hand, with the other hand keep stirring the flour with ladle. 2. Now try to mix water and flour quickly with ladle. Try to knead the dough with your hand as by the time, the temperature will drop. 3. Make small balls with the dough and keep it in the same bowl. Cover it with clingfilm to avoid the exposure of the moisture from the balls. 4. After few minutes, take a ball at a time and press it gently with your palms to give a shape like a round disc. 5. Press it with your fingers to make it thin and add the stuffing into middle of the disc. 6. Now take the two opposite wings together and press it to give it a shape like half moon. Seal the edges by pinching with your fingers or you can make a little portion of the outer side and turn it to the inner side to give it an exactly pithe like shape. 7. Do the dame process with rest of the balls. While working on one puli, other balls must be covered.
Step 3
For Kheer: 1. Boil milk in a large saucepan and then simmer it in low flame. 2. Cook it in low flame until it reduces to half of the original volume. 3. While milk is reduced, add puli one by one to the milk. 4. Cook it on medium flame for 7-10 mins. Stir it but very gently as pulis are very delicate and may broke. 5. Since you see that pulis are changing colours, that means your puli dumplings are cooked. 6. Add Sugar into it and mix it very gently with the milk. B e careful that the dumplings will not break. Sprinkle crushed cardamom and cook on medium flame for another 3-4 mins. 7. Now, switch off the flame and let it come to room temperature. 8. You can refrigerate it upto 2-3 days. However, Doodh Puli tastes best when it is fresh.