Egg Mayo Sandwich
2018-06-11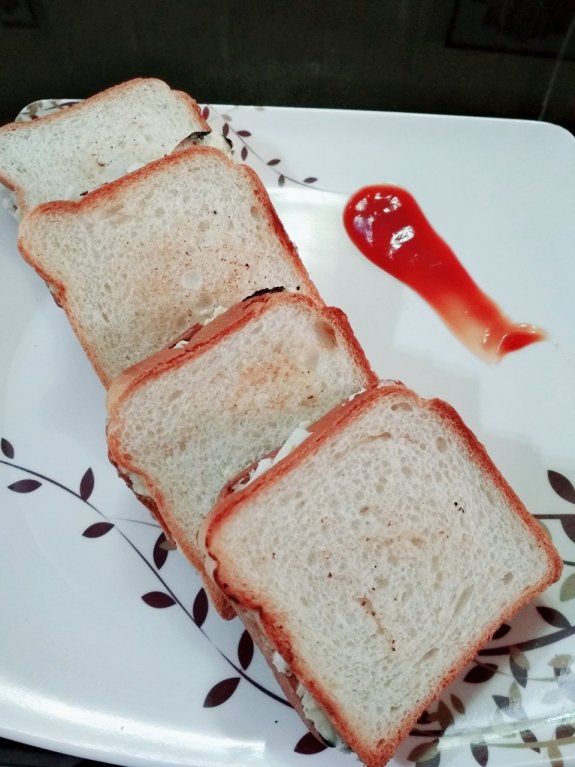 Egg Mayonnaise Sandwich is a quick and healthy breakfast recipe that can be whipped up within 10-15 minutes. The boiled eggs with mayonnaise and mustard sauce give a creamy texture of this sandwich.
Ingredients
8 Bread Slices
4 Boiled Eggs
1 Tbsp Butter
3-4 Tbsp Mayonnaise (You can use more as per your choice)
1 tsp of mustard sauce or as desired
1 tsp crushed black pepper
1 medium size onion – finely chopped
1 tsp Lemon juice
1-2 green chillies chopped
salt as per taste
2-3 small garlic clove minced finely
red chilli flakes as required (Optional)
½ tsp dried herbs (optional)
2 Tbsp Parsley or Coriander Leaves finely chopped (Optional)
Method
Step 1
1. Gently chopped boiled eggs to small cubes and add them in a big bowl. 2. Now, add all the ingredients one by one except bread. Gently mix everything and taste the mixture. Add more lemon juice or salt or anything else if required. 3. Toast the bread in a tawa or toaster. You can smear light butter on the bread. 4. Now, spread egg mixture over the bread slices and cover it with another slice of bread. 5. You can chill this sandwich in refrigerator or you can serve this instantly.
Some More Breakfast Recipes:
Kanda Poha
Vegetable Rava Upma
Bread Rava Toast
Bread Upma
Potato Carom Seeds Grilled Sandwich
Junglee Chicken Sandwich
Eggless Mango Mint PanCake
Bread Pizza
Bread Toast or Bread Besan Toast
Instant Rava or Sooji Uttapam
Potato Omlette
Matar Kachuri or Karaishutir Kochuri
French Crepes
Paneer Paratha