Fried Banana Split with Chocolate Syrup
2015-10-07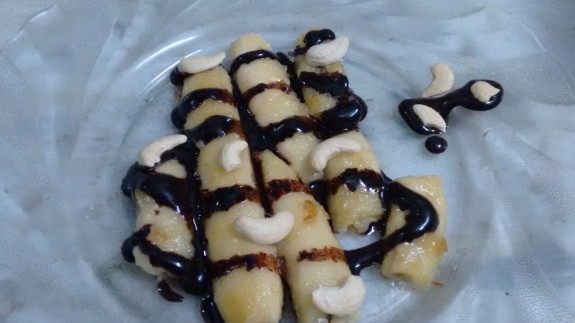 Prep Time : 15m
Cook Time : 15m
Fried Ripe Banana Split with Chocolate syrup is a wonderful dessert to taste. It is perfectly right and enjoyable dessert for the whole family. You can also use white vanilla ice cream scoop on the top of the golden fried banana split. This is easy to make and impressive dessert.
Ingredients
4 ounce bar semi-sweet chocolate
water
1- 2 tbsp unsalted butter
4-5 ripe bananas, split half lengthwise
¼ cup light brown sugar
1/3 cup slightly toasted almond or cashewnut
Method
Step 1
1. To make the chocolate sauce, combine the chocolate and ¼ water in a pan. Stir in a low heat until the chocolate melted and smooth. Remove from heat. 2. Now. Place brown sugar dust in a plate and toss the bananas in this sugar. 3. Melt butter in a pan and heat it until the butter becomes golden brown. Now add the banana to the hot pan. Turn the bananas as they are golden brown and crunchy coat. 4. Place the banana in a plate or bowl and spoon the sauce over it. Sprinkle the toasted cashew nuts or almonds over it and serve immediately. 5. You can also use vanilla ice cream scoop on the top.