Grilled Chicken Breasts with Mustard Sauce
2017-01-01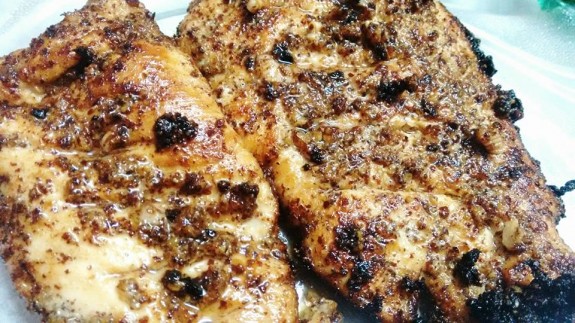 This is a great combination of common ingredients which are present in our house.  This fabulous dish would be liked by everyone who loves to eat Chicken. You can easily cook this recipe at your home on any special festival like New Year Party, Christmas Party or Birthday, Anniversary Celebration and I can assure you that you are sure to garner the compliments of your guests and family.
Ingredients
2 skinless, boneless Chicken breasts halves ( lightly sliced each side)
2 Tbsp Cider Vinegar
3-4 garlic cloves, peeled and minced
1 Tbsp Lime Juice
1 Tbsp Lemon Juice
2 Tbsp Brown Sugar
3 Tbsp prepared Coarse ground Mustard
1 tsp Salt
½ tsp ground black pepper to taste
3 Tbsp Olive oil
Method
Step 1
1. Take a large glass bowl and add vinegar, garlic, lime juice, lemon juice, mustard sauce, salt, brown sugar and pepper. Now whisk everything in olive oil. 2. Now place the chicken breasts in the mixture and marinate both the side very well. Cover and marinate for 8 hours or overnight. 3. Now, preheat an outdoor grill at high heat. If you want you can also do it in the microwave griller. 4. Lightly oil the grill grate. Now, place the marinated chicken breasts n the prepared grill and cook it for 5-6 minutes per side until juices run clear. Do the same process on the other side. While turning the other side, you can add some more mustard sauce mixture on the chicken breasts pieces. 5. Another way is to take a pan and add 2 Tbsp oil into it. Heat oil in a gas oven and lightly fry the Chicken breasts each side for up to 4-5 minutes. Turn other side and fry that side too. Don't fry it too much otherwise, Chicken breasts will become hard. 6. Remove from the oven and serve immediately.