Home Made Pizza
2016-02-12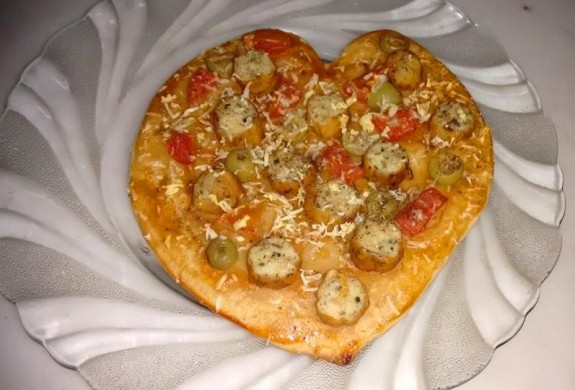 It is really very easy to make pizza at home. Even Pizza base, pizza sauce and toppings can also make in home which are tasty and exciting too. While it comes to whole wheat flour pizza, then the terms also come as healthy recipe too.
Ingredients
Pizza Dough:
3 cups whole wheat flour/atta
1.25 cups of water or as required
2 tsp dry active yeast (If you don't have east in your home, then you can add 1 tsp baking powder and 1 Tbsp butter and ½ cup of milk. In that case you should use less water)
¼ tsp sugar
½ tsp salt
2 Tbsp olive oil
Some whole wheat flour for dusting
A big heart shaped cutter
Tomato Pizza Sauce:
3 medium large tomatoes pureed – minimum 1.5 to 2 cups of tomato puree
4-5 garlic cloves chopped
1.5 tsp chopped basil leaves
1.5 tsp dry oregano
¼ tsp black pepper powder
2 Tbsp olive oil
salt as required
Instead of using so many things, you can also simple use ready-made tomato sauce and mayonnaise with some black pepper powder and salt to make the base tomato sauce.
Pizza Toppings:
6 to 8 Tbsp Pizza Sauce
1 medium onion chopped
1 small tomato chopped into ½ inch square
1-2 fried chicken sausage sliced (If you are vegetarian, you can use bell pepper and Soya sausage instead of chicken sausage)
7 – 8 olives chopped (green and black)
some olive oil for brushing
½ cup of shredded mozzarella cheese (however, if you want to get the flavour of tomato, use it little less)
whole wheat flour for dusting
Method
Step 1
Pizza dough: 1. Take 1 cup of water and lightly warm (not hot/boil) it. The temperature should be within 40-43 degree Celsius. 2. Add ¼ tsp sugar and stir it so that sugar will dissolve. Add 1.5 tsp instant yeast into it and stir so that yeast will dissolve. 3. Add 1cup whole wheat flour, 2 Tbsp oil and salt as required. Mix everything with spatula. 4. Again add 1 cup of flour and mix everything. 5. Last, add 1 cup of flour and continue to mix to form a dough. 6. Knead the dough very well atleast for 5-8 mins till it is soft and pliable. 7. Rub some olive oil over the dough and keep it on the same pan. Cover it with kitchen towel and allow the dough to leave for an hour.
Step 2
Pizza Sauce: 1. Rinse and chop the tomatoes. Make the puree of the tomatoes in a blender. 2. Heat oil in a pan. Add chopped garlic and sauté for few seconds. 3. Add the tomato puree and sauté for 4-5 mins. When tomatoes cooked, add chopped oregano, basil, salt and black pepper. 4. Stir everything and cook it on low medium flame for about 1-2 mins. 5. Remove from gas oven. If required you can add more salt. Once cooled, use the sauce as pizza topping.
Step 3
Assembling everything to make Pizza: 1. After dough has leavened, divide it into 2 parts. Lightly knead each part and keep them covered for another 15-20 mins. 2 part of dough will give 2 pizzas with 8 – 10 inches. 2. Now, grease a 9 to 10 diameter pan with olive oil. Dust the pan with some whole wheat flour. 3. Preheat the oven to 250 degree Celsius for atleast 20 mins. 4. Now take one portion of the dough and lightly dust it with whole wheat flour. 5. Now, with rolling pin, roll the dough to a round shaped of 8-10 inches diameter evenly. 6. Cut the rolled dough with a heart shaped cutter to give it a shape of heart. 7. Lift the pizza gently and place in the greased pan. 8. Now, brush some olive oil. Take 3-4 Tbsp of Pizza Sauce and spread it evenly. Add 1-2 Tbsp shredded mozzarella cheese. 9. Now top up with all the veggies, sausages. You can add any toppings as per your choice. 10. You can sprinkle some red chilli flakes and dry oregano. However, this is optional. 11. Again top up with 1-2 Tbsp shredded mozzarella cheese or more if you want. 12. Keep the baking tray in the center rack of the oven with both the top and bottom heating rods. Bake for 12- 15 mins or more till the cheese melted. 13. Once baked, slice the pizza and serve hot.