Junglee Chicken Sandwich
2015-12-20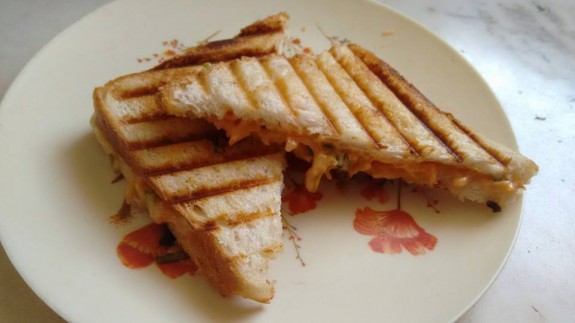 The Masala Route presents delicious creamy Junglee Chicken Sandwich recipe for your breakfast. This is one of the healthy and nutritious food for your family and kids.
Ingredients
4 White or brown bread slices
½ Cup boiled chicken chopped
2 Tbsp green chutney
2 Tbsp Mayonnaise
1 Medium onion chopped
1Medium grated carrot
2 green chilies chopped
2 Tbsp coriander leaves chopped
Salt as per taste
½ tsp Chaat Masala (optional)
½ tsp Black pepper powder (optional)
Method
Step 1
1. Take a bowl and add green chutney and mayonnaise. Mix well and then add boiled chicken and green chilies. Mix everything well. 2. Now add the vegetables onion, coriander leaves, carrots and salt and mix them well. You can sprinkle some chaat masala and black pepper powder on the mixture if you want to more tasty in Indian chatpata style. 3. Cut the bread slices into triangles. Spread the mayonnaise mixture on the one half and cover it with another half. 4. Apply little butter on the both top sides of the bread slices and grill them. 5. Place it on the serving dish and serve it immediately.