Mango Chutney in Bengali Style
2016-06-08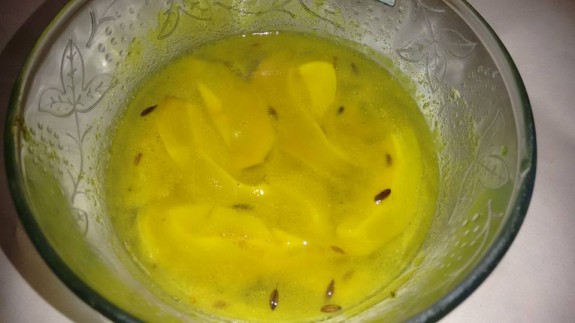 Mango is the seasonal fruit in summer. Basically this sweet & sour mango chutney will give you the relief in summer. You can serve this after any kind of meal. So yummy and tasty.
Ingredients
1 big green raw mango – peel and cut into long strips of pieces
½ cup or more sugar according to the sweetness of the mango
½ tsp 4 spices– methi, mouri, jeera, sarso (fenugreek seeds, fennel seeds, cumin seeds and mustard seeds)
1 tsp oil
1 dry red chilli
pinch of turmeric powder
pinch of salt
1 cup water
Method
Step 1
1. Heat oil in pan. Add the 4 spices and dry red chilli. 2. Now, add raw mangoes and stir it for 2-3 mins till it becomes little soft. 3. Add turmeric powder, salt and stir for few minutes. 4. Pour 1 cup or more water and allow it to boil for 2-3 mins. 5. Now add ½ cup or more sugar and cook it till the gravy becomes thick. 6. Now, remove from heat and cool down it. Serve it cold.