Mango Ice-Cream with Tropical Fruits
2016-06-30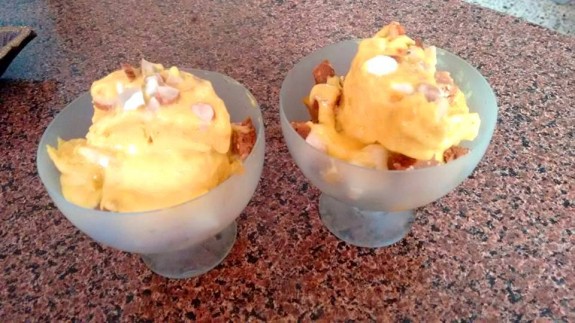 Mango Ice-cream with tropical fruits will give amazing flavour of mangoes and fruits to make you refresh in the summer mango season. Make this recipe at home and give a small surprise to everyone. You can get the Mango Ice-cream recipe in my other post.
Ingredients
2 Big Scoop Mango Ice-Cream
1 Small mango
1 Banana
1 Apple
3-4 Litchis sliced
2 sesame cookies (broken into small pieces)
1 tsp chocolate chips
1 Tbsp honey (optional)
2 Tbsp chopped dry fruits (almond, cashew nuts, raisins, pistachios etc.)
Method
Step 1
1. Peel all the fruits and cut into small pieces. It would be better, if you keep all the fruits in the refrigerator at least for 1 hour before making this dish or before cutting all the fruits. 2. Now take 2 ice-cream glasses and place the cut fruits equally on both the glasses. 3. Add some chopped cookies, choco chips. Chopped dry fruits and honey. 4. Now place 1 big scoop of mango ice-cream on top of the fruits on each glass. You can add more chopped cookies, chocolate chips, honey and dry fruits on top of the ice-cream too. 5. Serve this immediately.