Mango Kalakand
2018-06-25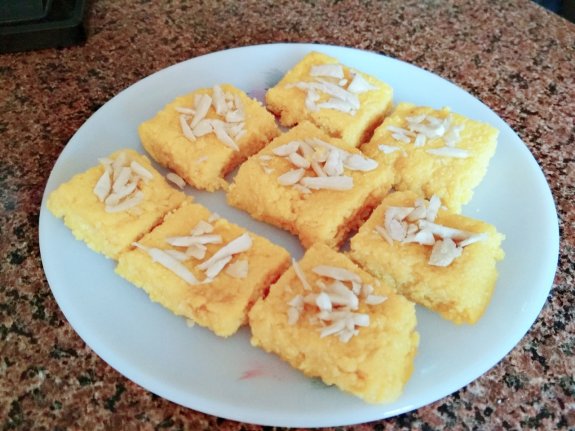 Mango, the king of fruits can be used to make  various mango dishes and among which Mango Kalakand is really delicious and heart touching sweet dish. This can be prepared for any occasion or festival or even simply at your home to give a sweet taste to your mouth.
Ingredients
Fresh Paneer or Chana made in home from 1 ltr Milk
½ Cup of fresh Mango Pulp (without threads)
½ Cup of Sugar (Less or more according to the sweetness of Mango)
2-3 Green Cardamom (optional. If you want to get the smell and taste of mango, then skip addition of cardamom)
3 Tbsp of Milk Powder
3-4 Tbsp of thinly sliced Almonds or Pistachios or Cashews as per your choice
Method
Step 1
1. Take a pan in the gas and add mango pulp into it. Stir it continuously atleast for 5 minutes. Now, add Sugar in the mango pulp and cook it until sugar melts and mango pulp becomes thick. You can understand easily when the colour of the mango pulp becomes light. 2. Now, add fresh paneer in the coked mango pulp and stir continuously for about 8-10 minutes until it becomes thick in consistency. 3. Now, add the milk powder and mix well with the paneer mixture. Turn off the gas and add cardamom powder (optional). However, I did not use the cardamom as I want to get the proper scent of mango in this Kalakand. 4. Grease a plate with ghee and pour the kalakand mixture into it. Spread it evenly with ¾ inch of thickness in square shape. 5. Spread he sliced nuts on top of the Kalakand and press it gently. 6. Put this in the fridge. It would take almost 2 hours to freeze the Kalakand. Once it freezes, cut it in square shape and size as you want. 7. So, Mango Kalakand is now ready to serve. It can be stored in the refrigerator for about 1 week.