Mango Patisapta
2018-07-30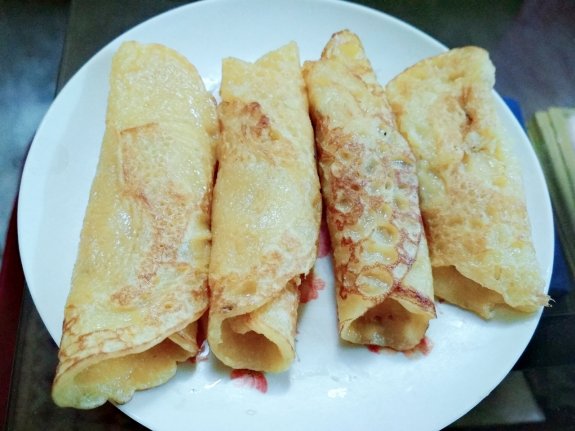 Every person from Bengal is known about the food "Patisapta", Malpua etc. These are the traditional dessert of Bengal. To give it a twist, I have used Mango instead of Coconut in this dessert. Mango Patisapta could be one of the delicious and mouthwatering recipes among all different types of mango recipes to be enjoyed during Mango season.
Ingredients
1 Cup of Ripe and Sweet Mango Pulp
1 Cup of Maida or All Purpose Flour
½ Cup of Semolina or Sooji
¼ tsp Baking soda (Optional)
Sugar as required according to the sweetness of the mango
1 ½ Cup of Milk
Refined oil for frying
For Stuffing:
Option 1:
1 Cup of crumbled Khoya
½ Cup of Ripe Mango pulp
Ghee as required
Option 2:
1 Cup of curdled milk or Chana
½ Cup of Milk powder
½ Cup of Mango Pulp
Sugar as required
1 tsp of Ghee (optional)
Method
Step 1
1. Take a big bowl and add Maida, Sooji, Mango Pulp, sugar, baking powder and milk and make a smooth and pouring consistency batter. If you think it is thick, you can add some milk/water as required. Now, keep this aside. 2. First prepare the stuffing. You can use two different types of stuffing. Here I am showing you two options for stuffing. You can use any one of these or you can use both the stuffing. 3. For the option 1, heat ghee in a non stick pan in low flame and add mango pulp and khoya into it. Cook till it leaves the sides of the pan. Remove from gas and let it cool. 4. For the other way of making stuffing, heat a pan and add mango pulp into it. Cook for 2-3 minutes and continuously stir it. Now, add Mashed Chana, milk powder and sugar and mix it properly. Continuously stir this for 4-5 minutes. You can add 1 tsp ghee to give it nice aroma. Now remove from heat and keep it aside. 5. Take another pan and heat light oil. Take one big spoon of batter and spread it lightly on the pan. Make sure to keep the flame low. Spread little oil all round the patisapta. 6. If you want you can cover it so that it will cook properly. Now, place a spoonful of mango stuffing as per your choice of stuffing and place it on the side and roll it properly. 7. Do the same process for the rest of all the Patisapta. So your patisapta is ready to serve now.
Some More Mango Recipes: