Mango Rasogolla or Aam Ke Rasgulle
2018-06-12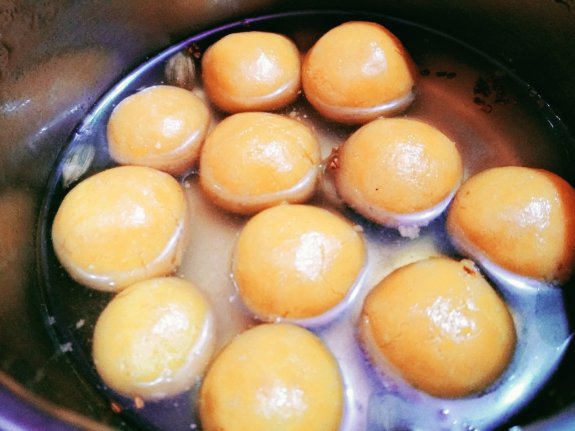 Rasogolla is one of the most popular dishes from West Bengal and when it comes to Mango Rasogolla, it will certainly bring a new flavour on the dessert plate whether it is Jamai Sasthi, Poila Baishakh, Father's Day celebration, Mothers Day or any other special occasion. This is not only famous in West Bengal but in different parts of India as well as world too.
Mango Rasogolla would be the right and extremely delicious dish to be taken during this Mango season. The essence of fresh Mango Pulp and Puree which is using in this dish will definitely give an awesome taste to Mango Rasogolla or Mango Rasgulla or Aam ke Rasgulle.
You can also make plain Rasogolla or Rasgulla at your home with the help of our recipe: http://themasalaroute.com/recipe/rasogolla-or-rasgulla/ 
Ingredients
2 Cup of Chaana or Chenna or Cottage Cheese
½ Cup of Sooji or Semolina
1 Cup of Sugar
3 Cup of Water
1 Cup of Mango Pulp
1 whole Cardamom crushed
7-8 Chopped Pistachios (optional)
Method
Step 1
1. Take a big bowl and take Chenna and ½ cup Mango Pulp into it. Knead very well to mix the ingredients atleast for 5-6 minute. Now, add Sooji or Semolina into it and knead it again to make smooth and soft dough. Make medium size ball out from the dough without having any cracks on the balls. 2. On the other hand make Sugar syrup. Take a cooker and add 3 cup of water, 1 cup of sugar, 1 crushed cardamom and rest of the ½ cup mango puree. Let it boil on slow flame. However, I did not add any Mango Puree in the Sugar Syrup. But you can add it to make it more tasty. 3. Now slowly add the Chenna balls one by one in the sugar syrup. Simmer for 2-3 minutes and let the balls boil. 4. Cover it and boil for another 10-15 minutes on a low flame. 5. Keep checking at short intervals to see if the ball has increased double in size and become soft. 6. Once done, switch off the flame and let it cool. 7. Garnish it with chopped pistachios and serve this Bengali Sweet to Your loved one.