Fresh Mango Pulp with Greek Yogurt Layer
2016-06-30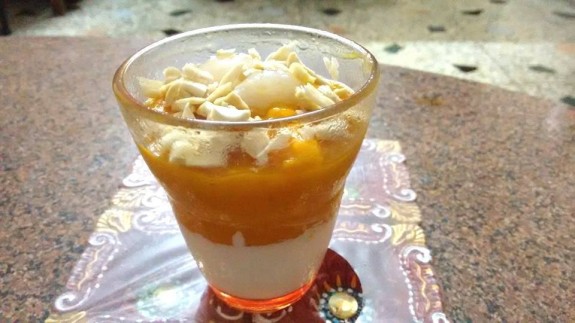 Indulge in this fresh and delicious Mango Pulp with Greek yogurt layer delight in this Mango season.  Try to make this recipe at home to give surprise to everyone.
Ingredients
4 big ripe mangoes (preferable Langra or Alphanso mango)
500 ml Greek Full Cream Yogurt
3 Tbsp Mango juice (optional)
125 ml low fat cream
Sugar as per taste
4 Tbsp chopped dry fruits ( cashew nuts, almonds, pistachios)
1 litchi cut into slice for garnishing
Method
Step 1
1. Peel the mango ad chopped it. 2. Place the chopped mangoes in a blender to make smooth puree of mango pulp. You can add mango juice and 2-3 Tbsp chopped dry fruits in this pulp and blends it again. 3. In a big bowl, add yogurt, sugar and fat cream and mix everything well. 4. Take a glass container and place a layer of yogurt mixture. You can keep this is freezer for 20 mins to make the yogurt set properly in the glass. 5. Now after 20 mins, top the mango mixture on the layer of yogurt mixture. 6. Keep this in the refrigerator for at least half an hour. 7. Garnish this with chopped dry fruits and sliced litchis and serve it immediately.