Oreo Cake with Strawberry – No Bake
2016-02-12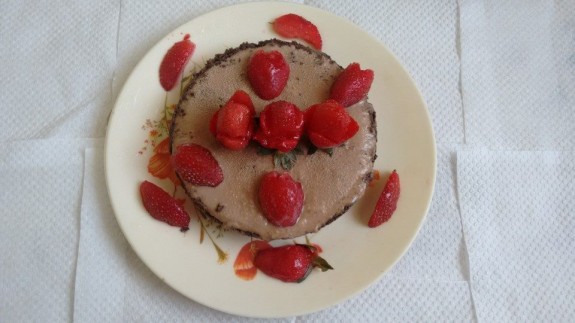 No bake Oreo cake is simple to make and delicious dessert to serve. Know about this classic no bake Oreo cake with chocolate flavour and strawberry on top which is a perfect solution to present or anniversary, birthday, Valentine's Day to your loved one.
Ingredients
300 gram Oreo
200 gram Chocolate
150 gram Butter
200 gram white cream
6-7 Strawberries
Method
Step 1
1. Break the Oreos and make them into powder through blender. 2. Melt 100 gram butter and mix with Oreo. 3. Now take a mould and grease it with butter. 4. Spread the Oreo and Butter mixture on the greased mould. 5. Put it into freezer. 6. Take a pot and add the cream. 7. Heat the cream in a gas oven and once it comes to boiling, add chocolate pieces and 50 gram butter into it. 8. Mix everything well and remove from heat. 9. Now take out the mould from the freezer and pour the chocolate mixture on top. 10. Again put the mould in the fridge and wait for 2 hours till it is done. 11. Cut 2-3 strawberries to give it a shape of roses. 12. Cut half of some strawberries and give red heart shape. 13. Take out the mould from freezer and remove from the mould. 14. Place it on a plate and garnish it with rose shaped and heart shaped strawberries.