Pabda Shorshe (Pabda Fish in Mustard Sauce)
2016-06-14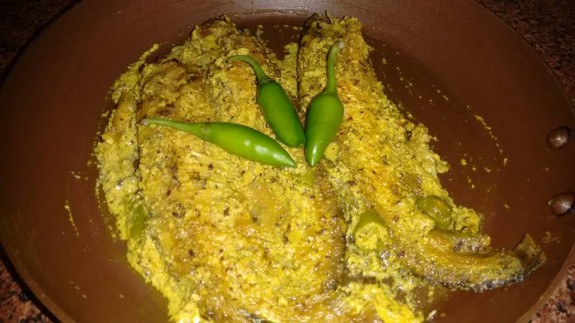 Pabda Mach er Shorshe Bata or Pabda fish in Mustard sauce is one of the popular dish is Bengal. It is another yummy fish delicacy that can have with steam rice during meal time. You can keep the fish or cut them into half according to the size of the fishes.
You can make the same recipe with Ilish or Hilsa fish with mustard, Pomfrret Shorshe, Parshe Shorshe or Bele Shorshe and many other fishes to get the yummy and tasty fish recipes.
Ingredients
4 medium Pabda Fishes
2 Tbsp Mustard (soaked and ground)
1 ½ Tbsp Poppy seeds (soaked and ground)
½ Tbsp turmeric powder
½ tsp cumin seeds
1 bay leaf
3-4 green chillies
salt as per taste
mustard oil (for deep frying the fishes and coking)
Method
Step 1
1. Thoroughly was the Pabda fishes and drain water. 2. Season the fish with turmeric powder and pinch of salt. Rub it all over the fish. 3. Add few drops of oil on the fish, to prevent bursting while frying. 4. Now, add mustard oil in a non-stick pan. 5. Heat the oil sufficiently. 6. Carefully place the fish to the oil for frying. Reduce the heat and cover it with lid to safe yourself from the bursting. 7. Transfer the fish on a plate. You can fry 2 fishes at a time. Repeat the same process with other fishes. 8. Now, in the same oil add cumin seeds and bay leaf. 9. In a bowl, add mustard and poppy seeds paste and mix it with little water. Add little turmeric powder into it and mix well. Now pour this mixture in the pan. 10. Add little warm water and cook it for few minute until the boil. 11. Add the Pabda fishes one by one and allow it to simmer for 3-4 minutes or until reach the desire consistency. 12. Serve this Pabda Shorshe with steam rice.