Paneer Dahi Korma
2015-11-03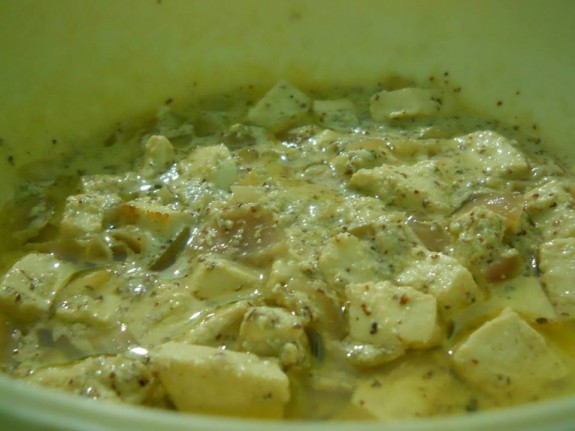 Paneer are always e the first option for veg and non-veg people from any part of India in any party occasion. Paneer Dahi Korma is a Bengali dish with a combination of Dahi and Sarso that give a North Indian style in this recipe.
Ingredients
300 grams paneer cubes
2 cups Yogurt
1 ½ tbsp mustard seeds or Sarso
1 Large onion chopped
2-3 green chillies
1 tbsp ghee
1 tbsp white oil
sugar as required
salt as per taste
Method
Step 1
1. In the mixer add mustards seeds and little water and grind it. Keep this aside. 2. In another mixer cup, add Yogurt, green chili chopped, salt and sugar and make a smooth paste. You can add little water also. 3. Now take a bowl and add the Smooth yogurt pate and mustard seeds paste and mix it properly. 4. Heat oil with ghee in a pan. Add the chopped onions and fry it lightly. Keep it aside. 5. Also you can light fry the paneer cubes too. Keep it aside. 6. Now, pour the smooth mustard and yogurt paste on the same pan of oil and ghee. Cook it for 4-5 mins. 7. While it comes to boil, add paneer cubes and fried onions into it. Stir it well and cook for another 2-3 mins. 8. Add salt and sugar if required. 9. Your easy to make Paneer Dahi Korma is ready to eat.