Pasta in Red Sauce
2016-05-01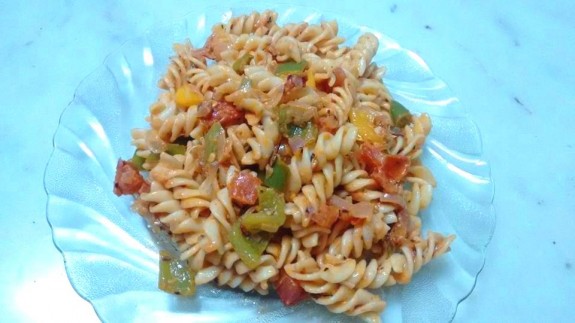 Fusili Pasta in Red Sauce is the ultimate Italian dish in which you can also give a Indian spicy twist too. I love this recipe and thus I am going to share it with all of you.
Ingredients
1 ½ cup cooked fusilli
2 cups blanched and chopped tomatoes
2 bayleaves(optional)
2 Tbsp olive oil
6 -8 black peppercorns
1 ½ tsp finely chopped garlic
½ cup chopped onion
½ cup chopped capsicum
3 Tbsp tomato puree
½ cup tomato ketchup
1 tsp dried oregano
½ tsp sugar
1 ½ tsp dry red chilli flakes
¼ cup fresh cream
salt as per taste
1 Tbsp grated processed cheese for garnishing (optional)
Method
Step 1
1. Cooked fusilli as per the instructions given on the packet. Use few drops of oil while cooking to avoid the stickiness. While cooked remove the water and place the fusilli in a plate. 2. Heat oil in a non stick pan and add bay leaves & peppercorns. Saute it for 30 sec in medium flame. 3. Now. Add onions and garlic and again sauté for 1-2 mins in medium flame. Add the capsicum and saute for 1-2 mins. 4. Add the chopped tomatoes, salt and mix them well. Cook on medium flame for about 4-5 mins and stir it continuously. 5. Remove the bayleaves and discard them if you are using bayleaves. 6. Add tomato ketchup, tomato puree, oregano, chilli flakes, sugar and mix everything well. 7. Add fresh cream and cook for 1 min on medium flame. 8. Add fusilli and toss everything gently. Cook it for 2 mins on medium heat. Stir it continuously while cooking. 9. Remove it from the heat and garnish with grated cheese. Serve it immediately with garlic bread or salad.