Patishapta
2016-01-10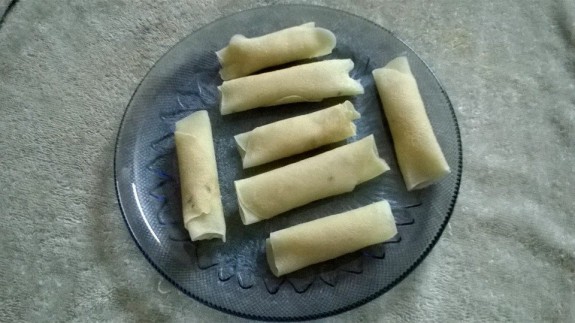 Learn how to make delicious Patishapta recipe for any festive season or auspicious occasion which is serve like a sweet roll.
Ingredients
400 grams Flour (maida)
250 grams Semolina (Sooji)
200 grams Sugar
300 grams Kheer(Khowa) for pudding
1 ltr milk
2-3 Tbsp of cooking oil
Method
Step 1
1. First condensed the milk by constantly boiling and stirring it. It would be easier if you add khowa along with 50 grams of sugar to turn the same into semi liquid state. 2. Take a large bowl and add maida, sooji and sugar. Add 2 ½ cups of water into it to make a light thick batter mixture. 3. Heat a frying pan and coat the surface of the pan with little oil. You can apply and spread the oil in the pan with a piece of cotton or piece of bottle gourd. 4. Pour the 4-5 Tbsp of mixture on the pan and spread it till it takes a circular shape. 5. Now put 1 Tbsp of kheer spread over it. 6. Roll it like the bread roll after 10-15 sec. Keep it in the pan and flip the sides. 7. Your Bengali style Patishapta is ready to serve.