Potato Omelette:
2016-12-30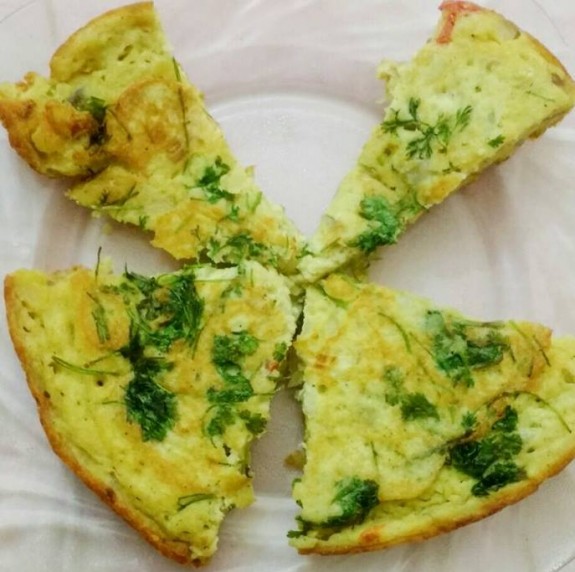 Egg is a healthy food to be added on your regular meal, either in breakfast, lunch or dinner. But if you got bored just to eat a boiled egg or simple egg omelette in your breakfast, then this would be the right choice to make a twist taste on your regular egg. Potato Egg Omelette is really a delicious yet healthy and tasty dish to be added in your breakfast menu.
Ingredients
2 medium sized boiled potato
4 eggs
salt as required
2 Tbsp olive oil
½ tsp pepper or as required
2 Tbsp finely chopped coriander leaves
Method
Step 1
1. Peeled and mashed the boiled potato and keep it in a big bowl. 2. Take a bowl and beat 4 eggs well. Add salt and pepper into it and mix well. 3. Now, add the beaten egg in the mashed potato and mix well. 4. Take a pan and heat oil in it. 5. Now, spread the mixture of the egg potato into this pan. 6. Add chopped coriander leaves on top of it. 7. Cook it in the low flame until the bottom part of the omelette cooked properly and turn into yellowish brown in colour and upper part will set properly. If you want, you can cover the pan and cook it. IT would take approximately 10 mins. 8. Now, very carefully flip the other side of the omlette to cook. If you are not able to flip it at one turn, then it better to place the egg in a plate first and then close the plate and flip the omelette. After that place it on the pan again to cook. Cook it for another 5-6 min in low flame. 9. While the omelette becomes brown in colour in both side, remove it from the oven. 10. Cut it into pieces and serve it hot.
Some More Breakfast Recipes:
Kanda Poha
Vegetable Rava Upma
Bread Rava Toast
Bread Upma
Potato Carom Seeds Grilled Sandwich
Junglee Chicken Sandwich
Eggless Mango Mint PanCake
Bread Pizza
Bread Toast or Bread Besan Toast
Instant Rava or Sooji Uttapam
Matar Kachuri or Karaishutir Kochuri
French Crepes
Egg Mayo Sandwich
Paneer Paratha