Shahi Tukda Recipe
2015-11-06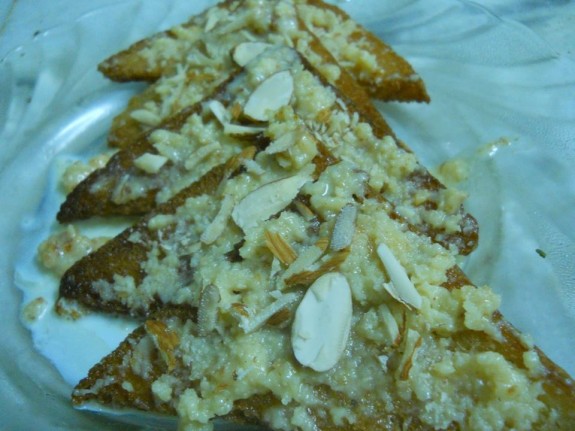 Shahi Tukda or Indian Bread Pudding is a very famous dish which can be a great dessert in any large party or occasion. It is really a royal treat for taste buds of all ages.
Ingredients
For Rabri:
1 litre full fat milk
3 tbsp sugar or as required
1 tbsp masala milk powder (optional
3 tbsp milk powder
¼ tsp cardamom powder
pinch of saffron (optional)
1 tsp rose water
For Sugar Syrup:
¼ cup water
½ cup sugar
¼ tsp cardamom powder
For Frying Bread:
7-8 slices of bread (white or brown)
2 tbsp of ghee
For Garnishing:
Dry fruits – sliced pistachios, sliced almonds
Method
Step 1
Preparing Rabri: 1. In a thick pan or Kadai, take 1 litre full fat milk and bring it to boil. 2. Add milk powder and stir it. 3. Add pinch of saffron and ¼ tsp cardamom powder. Mix it well. Do stir and scrape of the side so that milk will not get browned or burnt from the bottom. 4. Switch off the gas when the milk becomes thickened and reduced. 5. Add sugar and stir well so that sugar will dissolve in the milk. 6. You can add rose water and some dry fruits o the milk. Note: It will take minimum 1 hour to get the milk thicken on low flame.
Step 2
For Sugar Syrup: 1. Mix ½ cup sugar in ¼ cup of water in a pan. Keep it in a low flame. 2. The mixture will come to boil. Cook it till get the thick consistency of the sugar syrup. 3. Once done, switch off the flame and add cardamom powder and stir it.
Step 3
Fry the bread slices: 1. Trim the edges of the bread or slice the crusts of the bread and cut them into triangles. 2. Heat 1-2 tbsp of ghee in a pan and place the bread slices on it in a low heat. 3. When one side will brown, flip it and toast the other side. 4. Drain the bread slices on paper towels.
Step 4
Shahi Tukra: 1. Dip each fried bread slices in the sugar syrup with the help of tongs or spoon and coated it evenly with sugar syrup. 2. Now, place the sugar syrup soaked bread slices in a plate. 3. Pour the rabri on the bread slices and garnish with sliced almonds or cashews. 4. Serve it hot or cold.