Sorshe Pomfret or Pomfret Shorshe (Pomfret fish in Mustard Paste)
2016-06-08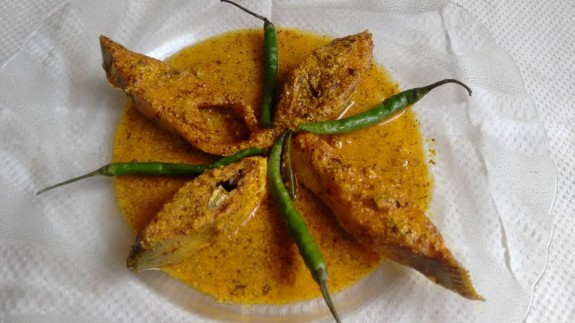 Pomfret fish cooked in a spicy mustard and poppy seed paste, make this recipe delightful to relish. You can make the same recipe with different variations of fishes like ilish(hilsa), bhetki, ruhi etc.
Ingredients
600 gram Pomfret Fish
200 gram mustard oil or more
2 Tbsp mustard paste
1 Tbsp poppy seeds paste
1 Tbsp green chilli paste
1-2 tsp turmeric powder
2 green chillies
1 tomato chopped (optional)
salt as per taste
warm water
Method
Step 1
1. Clean the fishes and cut into large pieces. Mix the pieces with turmeric powder and salt and keep it aside for few minutes. 2. Prepare the mustard and poppy seeds paste. 3. Heat oil in a pan and lightly fry the fishes. Gently fry both sides as too much stir can broke the fish. 4. Remove from oil and keep it aside. 5. Now, if you want you can change the oil or use the same oil. It is better to change the oil in which you fired the fishes as using of same oil can give a smell of fish in the recipe. 6. Now, heat another pan and add 3 Tbsp of oil into it. 7. Add mustard paste, poppy seeds paste, green chillies paste, salt and turmeric powder and sauté for 2-3 minutes. You can also add tomato, if you want. However, I did not use tomatoes in this. 8. Now, add little warm water and when the water starts boiling add fried fishes. Add green chillies and cook it for another 4-5 mins. 9. Before remove it from the gas oven, add little mustard oil and mix everything well. Switch of the flame. Serve this with steamed rice.