Tangra Macher Chorchori
2015-11-03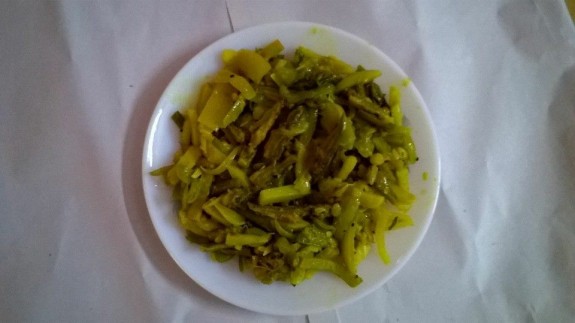 Tangra fish can be available in big and small size, but when it comes to Tagra Macher Chorchori then it is always suggested to use small fish on Chorchorti to make it yummy and delicious.
Ingredients
100 grams Tangra Fish
1 bowl Vegetables (all should be cut into long and thin pieces): Jhinge(ridge gourd), Beans, Shim (Runner Beans or Flat beans), Potato, begun(brinjal or eggplant), Mulo (Raddish), Data(Bengali vegetable)
Onion cut into thin slice
Mustard oil
2-3 green chilies
2 tsp turmeric powder
Nigella seeds (Kalo jeera)
½ cup warm water
coriander leaves
salt as per taste
Method
Step 1
Fry the Fish: 1. Take Tangra fishes and rub it with 1tsp turmeric powder and little salt. Keep it aside for 5-10 minutes. 2. In a pan, heat oil and fry the fishes one by one. Keep the safe distance while frying the tangra fishes. 3. Make medium fry of the fishes. 4. Keep it aside.
Step 2
Tangra Chorchori: 1. Heat 2 tbsp oil in a pan. Add Nigella seeds and Slitted Chili. 2. Add onion and fry it lightly. Now add all the 1 bowl vegetables into it. 3. Saute it for 2-3 mins and add green chilies, turmeric powder and salt and mix it well. 4. Add ½ cup of war water and cook for 5-6 mins in low flame. 5. Pour more warm water if required and add the fried fishes. 6. Add chopped coriander leaves and cook for 1-2 mins more. Your Tangra macher Chorchori is ready. Garnish it with coriander leaves.