Tropical Fruits with Ice Cream
2015-12-30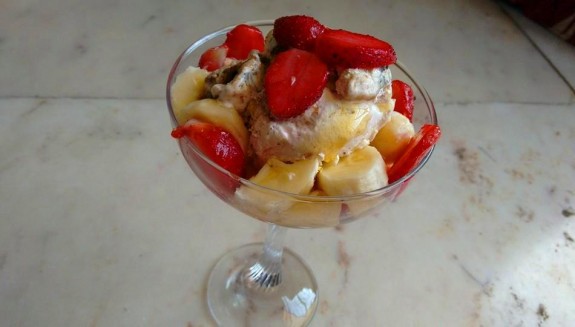 Tropical Fruits with Ice-Cream is an amazing fruits flavour that will give a refreshing and awesome moment to everyone while having this. Know the recipe now.
Ingredients
1 Big Red apple – cut into small cubes
1 Banana – cut into slices
5-6 Strawberries – cut into 3 pieces
1 Orange – cut into small chunks
1 Mousambi – cut into small chunks
1 Mango – cut into small cubes (optional)
2 Tbsp honey
1 Tbsp fresh cream
1 big Ice-cream Scoop(Vanilla flavour or Chocolate Vanilla or Coconut or any other flavour that you like most)
Method
Step 1
1. Take a large bowl and cut all the fruits as instructed in the Ingredients and keep on the bowl. 2. Now, add 1 Tbsp fresh cream and 2 Tbsp Honey on the fruits and mix everything properly. 3. Take a Wine Glass and place all the fruits. 4. Top with your favourite ice cream scoop. 5. Garnish with strawberry slices and little honey on the top. 6. Serve it immediately.