Vegetable Hakka Noodles
2015-12-30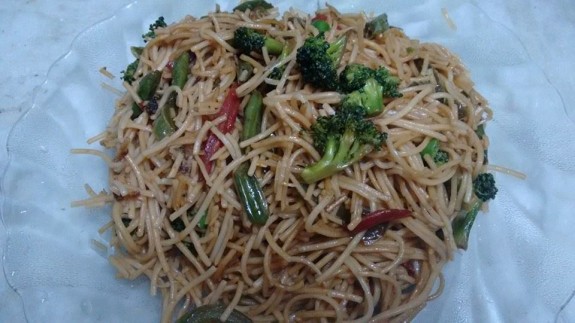 Plenty of vegetables make this Noodles dish too much tasty as well as healthy too. Try this recipe easy to cook quick recipe at home and make your family surprise with this Chinese dish.
Ingredients
400 grams Noodles
1 medium onion sliced
6 Tbsp oil
1 medium carrot cut into thin slices
1 medium capsicum – cut into thin strips
½ cup broccoli small flowers
½ cup bean cut into small strips
½ cup finely shredded cabbage (optional)
1 Tbsp Soya Sauce
¼ tsp white pepper powder
1 stalk finely shredded spring onions (optional)
Salt as per taste
Method
Step 1
1. Boil Noodles in sufficient water with little oil. Drain and Cool the noodles. 2. Heat oil in a pan and add onion slices. Stir it for 2-3 mins. 3. Now add carrots, capsicum, broccoli, bean and cabbages and stir fry all the vegetables for another 3-4 mins. Stir and toss continuously. 4. Add Noodles, soya sauce and white pepper powder and cook couple of minutes on high heat as Chinese recipes always cooked in high heat. Toss it continuously. 5. Add spring onions and mix well. 6. Serve hot with Chilly Paneer or Chilly Chicken as side dish.