Watermelon Pizza
2016-05-09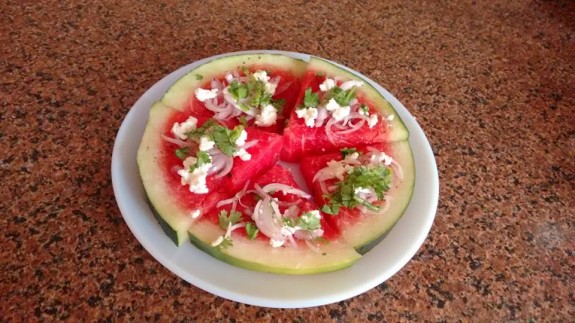 Watermelon Pizza is a unique and innovative dish where I am going to use watermelon in pizza style or you can say pizza style watermelon topping with salad. This recipe is really a delicious salad, serving which will blow anyone's mind.
Ingredients
Slices of watermelon- cut into slices like pizza
1 small red onion slices
1 Tbsp lemon juice
1 -2 tsp rock salt or as per taste
½ tsp red chilli powder
1 Tbsp Feta cheese
½ tsp black pepper powder
½ Tbsp chopped coriander leaves (you can also use arugula or basil or mint leaves instead of coriander, as per your choice)
3-4 black olive – cut into slices (optional)
1 small red tomatoes – lightly roasted and cut into slices (optional)
Method
Step 1
1. First take a bowl and add red onion slices, 1 tsp lemon juice, 1 tsp rock salt and ½ tsp red chili powder and mix it well. Keep it aside for 10-15 mins. 2. Now in a plate place the Watermelon slices like a round shaped pizza. 3. Squeeze the lemon juice on top of each slices or you can rest of the lemon juices on each slice. 4. Sprinkle rock salt and black pepper on top of the slices. 5. Now, equally divide the onion mixture for each watermelon slice and place the divide portion on top of it. 6. You can add olives and roasted tomatoes if you want to add some more taste. 7. Spread Feta cheese on top of each watermelon slices and serve it cool.