Watermelon Fire And Ice Salsa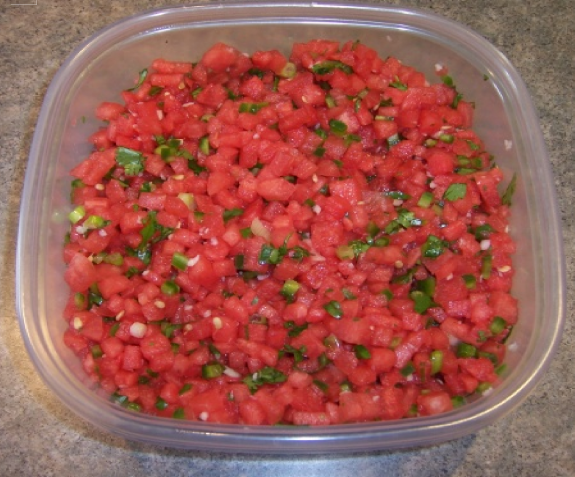 | | | |
| --- | --- | --- |
| Overall Preparation time: | Baking / Cooking time: | Total time required: |
| 10 minutes | 5  minutes | 15 minutes |
The refreshing Watermelon Fire and Ice Salsa are just the perfect snacks for a hot sultry afternoon. The combination of watermelon with bell peppers, cilantro, and other ingredients is nutritious and deliciously yummy. The loss of electrodes on a summer day can easily replenish by watermelon. It provides the much-needed water combined with other essential nutrients. The best part is the amazing combination of ingredients, which are easily available at home.
Watermelon Fire and Ice Salsa is the best alternative to the ageless tomato salsa. In fact, the watermelon in the salsa is much more innovative and is sure to win more appreciation to your cooking skills. It is ideal for a quick morning breakfast or an afternoon salad or just as a salsa for parties. The flexibility of this recipe makes it a popular snack, starter or a summer barbecue. It is also popular with people of varying ages because of its taste and simplicity. The best part is that you can prepare it in just minutes with ingredients that are commonly available in the house.
The most important step in making this salsa is the combination of the ingredients in correct proportion. The next most important point is draining and needs to do very carefully.  You can do it overnight or minimum an hour or so as possible. The minimum draining process is essential, because watermelon itself is watery, and when combined with salt it will be more watery. So draining is an important process. The sweetness of the watermelon with a tinge of sourness from limejuice, jalapenos, and cilantro plus the crunchiness of green onion and the rustic flavor of garlic salt is indeed refreshing.
Fresh ingredients like watermelon, green bell peppers, cilantro, jalapenos and limejuice can use for making Watermelon Fire and Ice Salsa. Therefore, it has no added preservatives and is perfectly safe for children, pregnant, lactating mothers and old people. Watermelon being the core ingredient shall be in a higher ratio than the bell pepper, cilantro, green onions, and jalapenos.
Ingredients
Watermelon: 3 cups chopped
Green Bell pepper:    ½ cup chopped
Lime juice: 2 tablespoons
Cilantro fresh: 2 tablespoons chopped
Green onion: 1 tablespoons chopped
Jalapeno pepper: 1 tablespoon chopped
Garlic Salt: ½ teaspoon
Method
Take a large bowl. Combine all the ingredients starting with watermelon, green bell pepper, limejuice, fresh cilantro, green onion, jalapeno pepper and garlic salt. Mix well. Serve it.
Tip
After mixing all the ingredients, the water should be drained or drain the watermelon after chopping.
Before serving, you can refrigerate the salsa for a while.
Watermelon fire and ice salsa are a favorite for all the age groups with particular reference to the children. It can easily combine with tortilla chips, fish and much more. It is versatile and so goes well with almost everything. The best part is, it is flameless. Therefore, children can prepare it with ease. It can make on a day out. No additional expertise in cooking is required. Nevertheless, the results are surely amazing.
Chefs just do not recommend salsa without tomatoes. They think it is against the etiquettes of preparing salsa. If you ask them, they will counter you with questioning; salsa without tomatoes?They cannot think of it. Now, for a change take our words and try this incredible recipe. The freshness of watermelon with green onion, bell peppers, jalapenos, and cilantro are too hard to resist. Even the die-hard tomato salsa fans will surely change side.
I am sure; a freshly homemade watermelon salsa will become your personal favorite.  Mainly because, the ease with which it can make, without any cooking, heating and boiling within just 15 minutes time. In addition, the ingredients are easily available at home and nothing very exotic. Instead of the regular salsa, the watermelon salsa is loaded with more electrodes and is more nutritious. It is a healthy snack for the afternoon, teatime, or even night parties.
The watermelon salsa is surely a hit in any gathering. The secret for which is that the watermelon should not be too ripe. The watermelon should be just medium. The proportion of other ingredients can be increased or decreased as to the individual taste. For example, lime juice can be doubled or less as preferred. Even the jalapenos or the salt can change as per your preference.
Biography
My name is Dianne and I am passionate about all things related to gardening.I blog about indoor and outdoor planting as well as offering useful information about the best gardening products.You can visit my site here… www.igardenplanting.com
Find All other Delicious Watermelon Recipes here: