Dhone Patar Bora or Coriander Leaves Fritters
2017-04-11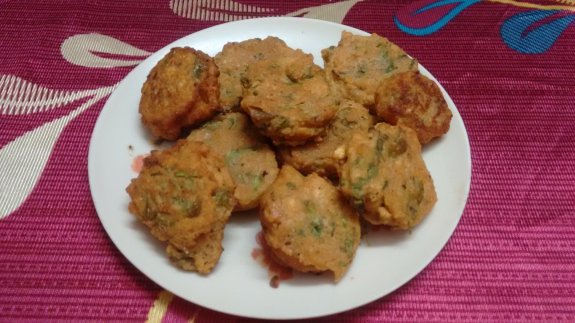 Dhone Pata or Coriander leaves are very common thing used in our every day dishes. But, we can use the Coriander leaves itself to make a Bora. Dhone Patar Bora is mainly served as evening snacks with tea or coffee or in lunch or dinner with rice. Find this recipe here.
Method
Step 1
1. Cut the Coriander leaves into small pieces. 2. Take a bowl and mix coriander leaves, besan, turmeric powder, salt, green chillies, red chilly powder and little water. 3. Make small shape of fritters with the batter. 4. Heat oil in a pan and put it on the pan. Fry it on medium heat until both the side will turn little brown.
Ingredients
100 grams of Coriander Leaves (Dhone Pata)
50 grams of Besan (Chickpea flour)
2-3 Green Chillies Chopped
½ tsp turmeric powder
Pinch of Baking Soda
Salt as per taste
Pinch of Red Chilly powder
Mustard oil to fry
Serve it hot in your evening snacks with tea, coffee or in your lunch dinner menu with rice.