Mango Raita
2016-05-24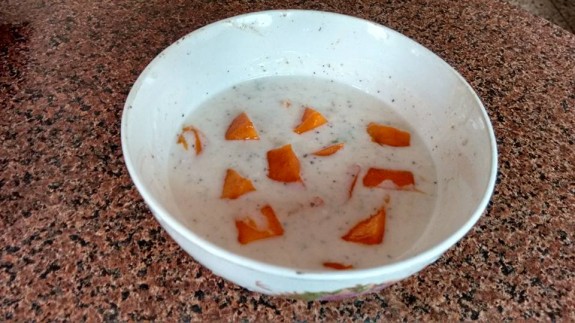 Mango is name as the king of fruits and mango season has already come. So, start making mango pickles, chutney, dessert, raita and many more with Mangoes during this season. The Mango raita is a healthy dish and can easily be served as a side dish with roti, naan, rice in your meal.  The sweet taste of mango and the tangy taste of yogurt go very well with the refreshing mint burst that enhances the total taste of this delicious mango raita.
Ingredients
1 ½ cup yogurt/curd/dahi
1 ripe mango
2 Tbsp mango pulp (optional)
10 fresh mint leaves / pudina
pinch of black salt or as per taste
½ tsp roasted cumin powder
¼ tsp black pepper powder
1/3 tsp chaat masala powder
2 tsp sugar or as per the sweetness of mango
Method
Step 1
1. Peel and chop the mango into small pieces. 2. Take a bowl and whisk the yogurt to make it a smooth one. 3. Chop the mint leaves and add it on the yogurt. 4. Add roasted cumin powder, black pepper powder, salt, sugar and chaat masala and mix everything well. 5. Now, add the chopped mangoes and mango pulp and mix gently. 6. Chill it on the refrigerator and serve it with roti, rice or naan.