Misti Cholar Dal/ Sweet Split Chick Peas
2015-10-14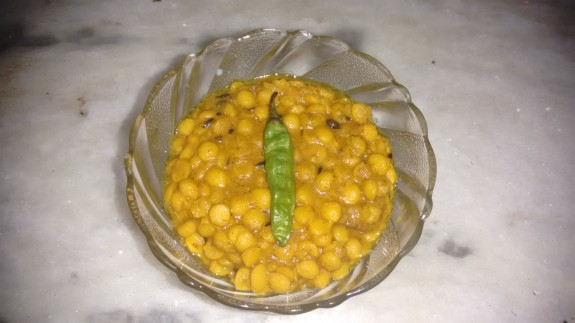 Prep Time : 30m
Cook Time : 30m
Bengali style misti cholar dal or Sweet Split Chick Peas is a lentil dish which is really delicious and tasty. The twist of coconut is making the cholar dal yummy.
Ingredients
250 grams Split Chick Peas or Bengali cholar dal
2 tsp turmeric powder
salt as per taste
sugar as per taste
1 small coconut (half portion thinly chopped and half portion lightly grind)
1/2 tsp cumin seeds
1/2 tsp coriander seeds
1 red chilly
1 bay leaf
2-3 chopped green chillies
1 tbsp ghee
2 whole cardamom, 1 whole cinnamon and 2-3 whole clove
2 tsp roasted and grinded cumin seeds, coriander seeds, cardamom, cinnamon and clove powder
Method
Step 1
Boil Cholar dal or Split Chick Peas 1. Soak the Split check peas or Cholar Dal for overnight. 2. In a big pan add 1 ltr water and soaked cholar dal and boil it. 3. While Split chick peas are about to boil, add turmeric powder, salt and sugar. Keep the heat off.
Step 2
1. Heat 2 tbsp oil in a pan. Add bay leaf, red chilli, cumin seeds, coriander seeds and whole cardamom, cinnamom and clove and sauté it lightly. Remember don't over heat the oil otherwise all the masala will lose its sweet smell. Add chopped coconut and cook till it light brown. Add the boiled chickpeas with water in it. Mix it properly. 2. Add turmeric, salt if required. Add 3 tsp sugar and mix properly. Cook 4-5 mins. 3. Add grinded coconuts and 1 tbsp ghee. 4. Remove from heat and your Misti Cholar Dal or Sweet Split chick peas is ready to serve.