Pesarattu (Green Gram Dosa)
2018-05-08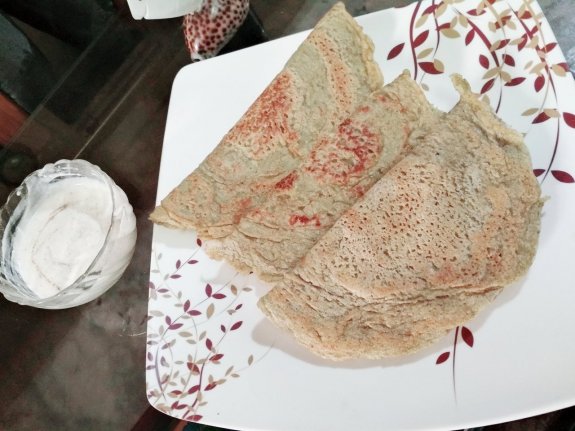 Pesarattu is one of the yummy and tasty recipes of South India which you can make at home. This is one such kind of Dosa type recipe which can be filled in various ways. You can have this as a plain one, with the side dish of Nariyel Chutney (Coconut Chutney) or Adrak Chutney. Also you can use Upma, or Cheese, or Cucumber Tomato slices, or Masala potato as a filling of this Pesarattu that will ultimately make this dish as a delicious one. However, here,  I will show Plain Pesarattu recipe that you can have with some Chaatpata dahi (curd) chutney.
Ingredients
3cups cleaned and overnight soaked Green Lentils (Sabut Moong Dal)
1 Cup cleaned and overnight soaked Rice
2-3 Chopped Green chillies
½ tsp Asafoetida powder
1-2 tsp salt or as per taste
1 inch ginger chopped
1 big onion chopped
¼ cup coriander leaves (Optional)
Oil for frying
Method
Step 1
1. Drain the Dal and Rice mixture and grind coarsely. Mix chillies, chopped onions, and ginger chopped and salt and grind it again to make a smooth batter of dropping consistency. 2. Now, proceed to make like Dosas. Heat Tawa and splash some water over it and immediately pour some batter and spread it out. 3. When edges start to rise, put oil all around and a little bit on top. Flip the other side if you want to cook the other side lightly. Will come off clean when cooked. 4. Serve with Dahi, Coconut Chutney, Adrak Chutney and more.