Punjabi Kadhi Pakora
2015-10-22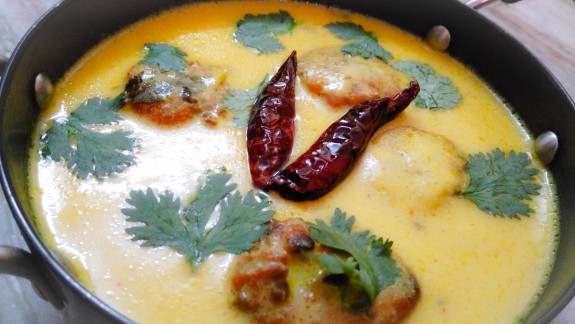 Servings : 3
Prep Time : 20m
Cook Time : 25m
Ready In : 45m
Ingredients
8tsp besan
½ tsp chili powder
½ turmeric powder
1 ½ cup curd
½ tsp carom/ adwain
2 sliced onion
Cumin seeds
Curry leaves
Dry red chili
Ginger garlic paste
Salt to taste
Cooking oil
Method
Step 1
Take 1 ½ curd in bowl and whisk it till it smoothes. Now add 8 tsp besan, chili powder, turmeric powser, salt and garam masala in it. And mixed it well add water about 3 cups and mixed it and make smooth without lumps.
Step 2
How to make Pakoda
Take 1 cup besan/gram flour add ajwain , salt garam masala, chili powder and sliced onion mixed everything well . Now add water as required to make thick batter for pakora.
Step 3
Heat up pan and add oil to deep fry pakoda. Drop the pakoda batter into oil and deep fry pakoda till turned crisp and golden brown. Drain the extra oil and place them in a plate.
Step 4
Prepration for Kadhi
Take a pan or kadai and heat up 2tsp cooking oil add cumin seeds, mustard seeds and crackle them add garlic ginger paste, cury leaves , dry red chilies and mixed them till the raw aroma of ginger garlic disappear.
Step 5
Add curd mixture in it and stir it well. Medium the flame and bring it to boil keep on stirring often so that the bottom does not get browned. Lower the flame and cook kadhi for 7-8 minutes the kadhi will ne thicken. Now the Yummy Panjabi kadhi pakoda is ready add fried pakoda in it and garnish it with coriander leaves and dry red chilies. Best taste with Steam rice, Chapati.