Rava Dhokla
2015-11-05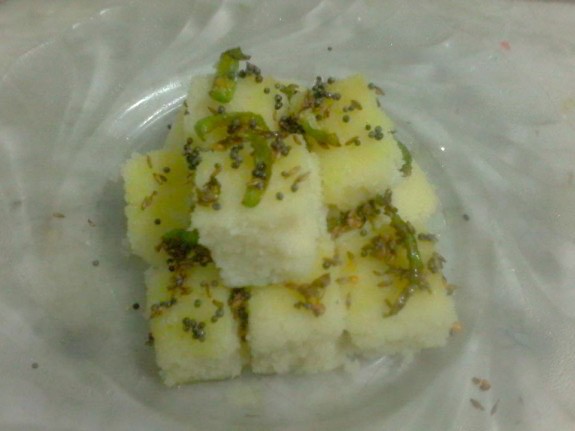 Rava Dhokla is a soft and spongy like idli snack yet fee the taste of dhokla. Making instant dhokla with rava is an art and many beginners sometimes fail it. Find here step by step instruction of Rava dhokla.
Ingredients
2 cups semolina or rava or sooji
½ inch ginger and 1 green chili paste
1 cup of water or as required
½ tsp sugar
1 tsp oil
a pinch of turmeric powder
1 tsp lemon juice
1 tsp baking soda or eno(fruit salt)
salt as required
½ tsp mustard seeds
½ tsp cumin seeds
1 tsp sesame seeds
4-5 green chilies split
a pinch of asafoetida
½ tbsp oil
2 to 3 tsp water
Method
Step 1
1. Take a large bowl and add Semolina, ginger green chili paste, sugar, salt,oil, pinch of turmeric powder. 1 cup water and lemon juice and mix it all without having any lump. You can use yougurt instead of lemon and water. 2. The batter needs to be slightly thick. 3. Keep it aside for 15-20 mins. 4. In the mean time, add 3-4 cups water in the steamer and heat it. 5. Grease the pan with oil. 6. Add eno/baking soda with the batter and stir briskly. 7. Now, quickly pour the batter in the grease pan. 8. Spread evenly and keep the pan in the steamer. 9. Cover it and steam for approximately 15-20 mins. It can be more or less if you are using electric steamer or pressure cooker. 10. Check with toothpick to see whether it has been done or not. Of it comes out clean, then the dhokla is completed but if not, then you need to steam it more. 11. Remove the dhokla and allow it to cool and cut into pieces. 12. Heat oil in a pan and add mustard seeds. When it crackle add cumin seeds and let them crackle. 13. Add asafoetida, green chilies. You can add some water and little sugar with chopped coriander leaves (optional) too. 14. Pour the tempering mixture on the dhokla. 15. Your Rava Dhokla is ready to serve.