Aloo Kofta Curry
2018-05-07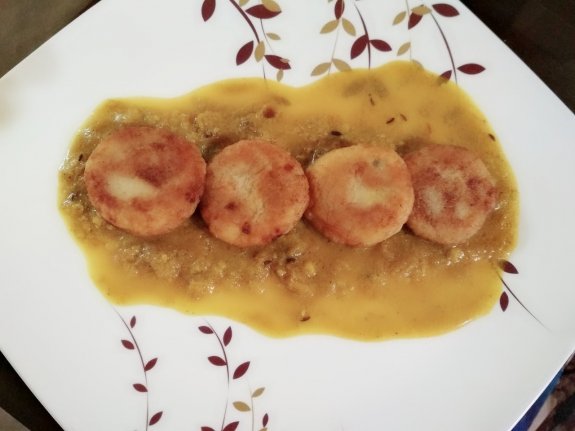 Potato Kofta Curry or Aloo Kofta Curry is one of the best Kofta curry as well as tasty and yummy dish of India in which gravy was a tomato based one and Koftas are the mixture of Potatoes and Paneer within them. This is a simple and homely dish that you can make for any weekend lunch or dinner or even for any party food also. To keep the taste of the Koftas at its best, it is suggested to give shallow fry to the Koftas.
Ingredients
For Making Koftas:
2 large boiled potatoes mashed
20 grams processed cheese or ¼ cup grated paneer instead of cheese
2 Tbsp corn starch or rice flour
½ tsp black pepper crushed
1/4 tsp Garam Masala powder
Salt as per taste
5 -6 Tbsp oil for shallow frying the Koftas
For Gravy:
2 Large Onions
2 large Tomatoes chopped
1 tsp Ginger garlic paste
8-10 cashew nuts (kaju)
1 medium Bay leaf (tej Patta)
½ tsp cumin seeds
¼ tsp turmeric powder
½ tsp Garam Masala powder
½ tsp red chili powder
1 tsp coriander powder
½ tsp crushed fenugreek leaves (Kasuri methi)
2 Tbsp whipping cream or low fat cream
½ tsp sugar or as required
1-1/2 cup water
Salt as per taste
2-3 green chillies chopped
Method
Step 1
Making Aloo Koftas: 1. Take a bowl and add mashed potatoes, grated paneer or cheese, ½ Tbsp corn starch, salt, Garam Masala powder and crushed black pepper or green chilies. 2. Mix everything well and divide it in equal size small balls. 3. Give all the balls as a shape of medium size patties. 4. Now heat oil and safely place the koftas in the hot oil. Don't add more than 3 Koftas at a time in the oil. 5. Turn over when one side gets light brown.Fry the other side and flip again. Remove the Koftas from the oil and place it on kitchen towels to remove excess oil. 6. Do the same process with rest of all the Koftas. Keep the koftas aside.
Step 2
Making Potato Kofta Gravy: 1. Heat water in a bowl and add large tomatoes, 1 large onions and almonds. 2. Now, roughly chopped the onions, tomatoes and add to the grinder. Also, peel the almonds and add to the grinder. You can use cashews instead of almonds. Grind everything to make a smooth paste. Keep it aside. 3. Heat oil in a pan and add ½ tsp cumin seeds and 1 small tej patta. 4. Now, add ground tomato onion almond paste. 5. Stir well and add 1 tsp ginger garlic paste. Add spice powder – turmeric powder, Kashmir red chilli powder, coriander powder and chopped green chilies. Stir and sauté still the mixture thickens and release oil from sides and top of the mixture. 6. Add water and stir well. Cook it in low flame for 3 to 4 minutes. 7. Now, add 3 Tbsp cream or you can use solid milk and Garam Masala powder and crushed kasuri methi. Mix everything well. 8. Pour the gravy in a plate and place the Aloo Kofta on the gravy. Garnish it with chopped coriander leaves.
Serve Aloo Kofta with Naan, Rotis or Rice.