Coconut Laddu (White) or Sada Narkel Naru
2016-10-06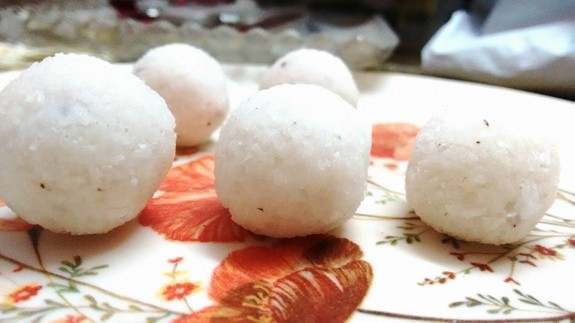 Cocoonut Laddu is a sweet dish specially made during festivals of Diiwali, Dushhera or Ganesh Chaturthi. Coconut Ladoo is made with desiccated coconut with sugar and taste so yummy. You can also make coconut ladoo by using jaggery and offer this to Lord Ganesha. This is one of the easy to make Indian sweets for any festive occasion.
Ingredients
1.5 Cups desiccated Coconut
2/3 cup regular sugar or organic unrefined cane sugar ( it could be adjusted as per the sweet you like to have)
½ cup of water or as required
3-4 cardamoms powder (optional)
Method
Step 1
1. Mix sugar with water and dissolve it. 2. Heat the sugar solution on fire on low flame and cook the solution. 3. The solution will start to be thickened and you need to continue to cook till you get the consistency of the sugar solution in a way so that you can make laddu with it. 4. Now, switch off the flame and add desiccated coconut and cardamom powder to the sugar solution. 5. Quickly stir and start making balls from the mixture. If it is so hot, then wait for few minutes and then make ladoos. But don't make it cool otherwise you would not be able to make ladoos from the mixture. 6. Serve the white coconut ladoos or sada narkel naru.
Find some more Diwali Special Faral:
Moong Dal or Besan Laddu
Chakli or Murukku
Corn Poha Namkeen
Poha Namkeen Chivda
Namak Pare or Nimki
Besan ki Papdi