Banana Raita
2016-06-12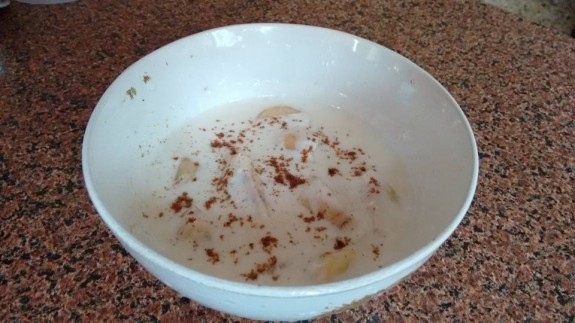 Banana cannot only be used as shakes – smoothies, desserts or fruits salads, you can also use Banana as mouthwatering raita by giving it some spicy touch. Try to use fresh curds as sour curds will ruin the flavour of the raita.
Ingredients
½ cup chopped bananas
1 cup whisked fresh curds/yogurt/dahi
1 Tbsp sugar or as per the taste
½ tsp mustard powder(rai/sarso)
½ tsp red chilli powder
salt as per taste
Method
Step 1
1. Take a deep bowl and add curd, sugar, salt, mustard powder and red chilli powder. Mix everything very well. 2. Now add chopped bananas and mix it. 3. Keep it in the refrigerator for 15- 20 mins to give it a little chilled flavour. 4. Serve it.