Dahi Aloo Tikki
2015-11-08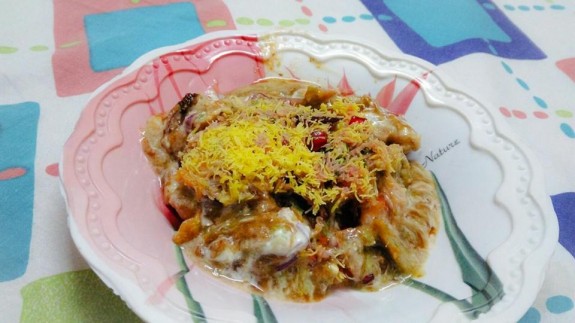 Dahi Aloo tiikki is easy to make recipe with the combination of some chutneys, aloo and papdis. Check out how to make this recipe at home.
Ingredients
For Aloo Tikkis / Potato Patties:
2 medium boiled potatoes
½ tsp red chili powder
¼ tsp black pepper powder
2 tbsp corn four or rice flour
½ tsp cumin powder
2 -3 tbsp oil to fry the patties
black salt as required
For toppings and mixture:
½ cup dahi or yogurt or curd
sweet tamarind chutney as required
green chutney as required
¼ tsp red chili powder
½ tsp chat masala powder
Few Papdis
roasted ½ tsp cumin powder
Chopped coriander leaves
namkeen or seva
black salt as required
Method
Step 1
1. Chop the boiled potato and keep them in a bowl. Add all the spice powder required to make Aloo Tikki as mentioned above. 2. With a hand/spoon/fork/potato masher, mash the potato mixture. 3. Now, take small portion and make round shaped patty with the mixture. Repeat the same process and make other patties. 4. Heat oil in a tava/frying pan and olace the potato tikkis on the tava. 5. Fry the Tikkis till they golden brown and crisp on both sides. 6. Now take a bowl and whisk the curd or yogurt till it smooth. 7. Remove the tikkis from the tawa and serve them in a plate. Pour the Dahi on the top of Aloo tikkis. 8. Now, top with 3 tbsp tamarind chutney, green chutney or as required. 9. Sprinkle 1 tsp of Chaat masala, red chili powder, roasted cumin powder and salt as required. 10. Crush some papdis and sprinkle them on the top. 11. Garnish with chopped coriander leaves and serve immediately.