Chanar Jilipi or Paneer Jalebi
2018-07-09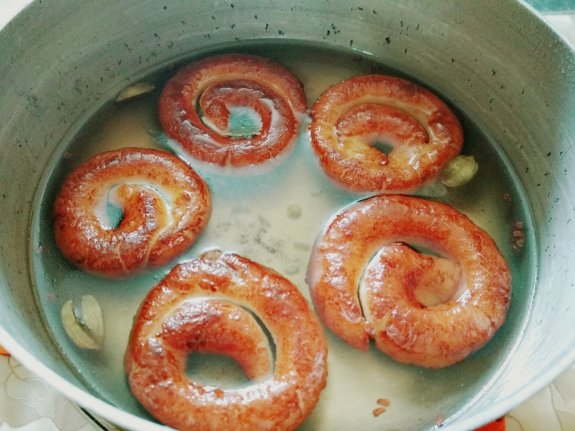 Chanar Jilipi is one of the popular dishes from the heart of Bengal which is also famous as Paneer Jalebi in other part of India. This Indian Sweets or dessert recipe can be prepared easily by using Pure Chaana, all purpose flour and sugar syrup which is extremely mouthwatering and delicious. Enjoy this dessert in any special occasions or festive occasions.
Ingredients
1½ liter full cream milk
Juice from 1 lemon or 1 ½ Tbsp lemon Juice
3 Cup of Water
2 Cup of Sugar
1 Tbsp all purpose flour
½ tsp baking powder
2 Cup oil or ghee for frying
Method
Step 1
1. Put a deep bottom pan in a gas oven and pour milk in it. Bring it to boil. Now, while the milk is boiling add lemon juice in it. You can also use "Calcium Lactate Powder" (Chaana Katar Powder) instead of lemon juice. 2. Once the milk curdles up, drain the water through a clan muslin cloth. Tie the cloth and hand it for atleast 2 hours or more so that water can completely drains away. 3. Now, transfer the hanged cottage cheese to your desired kneading space. 4. Now, add all purpose flour, baking powder and pinch of salt in the cottage cheese. 5. Mix everything and knead it well to make smooth dough. Refrigerate the mixture for about 20 minutes. 6. Now, take out a small portion from the dough and roll out long ropes out of the balls and swirl them to form the jalebis. You can make 8 to 10 jalebis from the dough mixture. 7. Now, put a pan in a medium low flame and heat oil or ghee. Once the oil or ghee is sufficiently hot, deep fry the prepared jalebis one by one. 8. In the meantime, prepare sugar syrup by taking a heavy bottom pan and add water and sugar into it. Boil it until you get the desired consistency. Remember, it must not be very thick or very thin as we need medium consistency sugar syrup for the jalebis. 9. Once done, switch off the flame and soak the fried chanar jilipi or paneer jalebis in sugar syrup for about two to three hours. Enjoy them hot or cold.