Kanda Poha
2015-10-04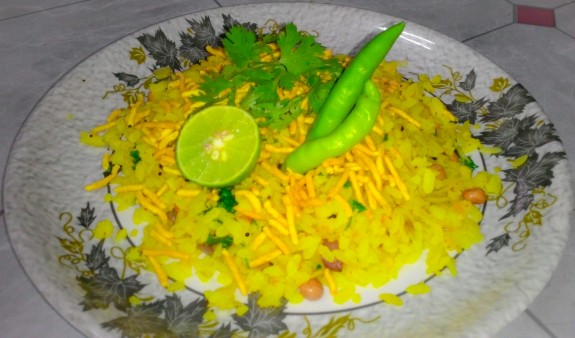 Prep Time : 10m
Cook Time : 10m
Ready In : 20m
How to Make Kanda Poha?
Poha is one of the most popular Indian breakfast recipe originated from north west India. It is also known as kanda poha in Maharashtra.
Ingredients
250gm Poha
2 Onions
2 Green chillies
Potato optional
Peas
1 Lemon
Mustard seeds (1/2 tsp)
Fennel seeds (saunf) (1/2 tsp)
Sugar (1/2 tsp) optional
Salt to taste
Oil to cook
Chili powder, turmeric powder
For garnishing Sew (1/2 bowl)
Jeeravan powder
Coriander leaves
Method
Step 1
1. Wash Poha and soak It for 10-15 Min. 2. Add chili powder, turmeric powder, sugar, salt and lemon in it and mix it well . 3. Heat a frying pan and add oil in it , add chopped onions, green chilies, potatoes and peas and cook it for 2 minutes on low flame , then
Step 2
4. Add the poha in it , mix the ingredients well and cook for a minute on medium flame . 5. Now poha is ready to serve 6. Garnish it with coriander leaves and sev.
What is Poha?
Poha is the Indian name of for flattened rice. It is one of the popular easy to make Indian breakfast all over the india like kanda Poha in Maharashtra, Sev Poha in Indore Madhya Pradesh India.