Fried Modak Recipe
2017-08-22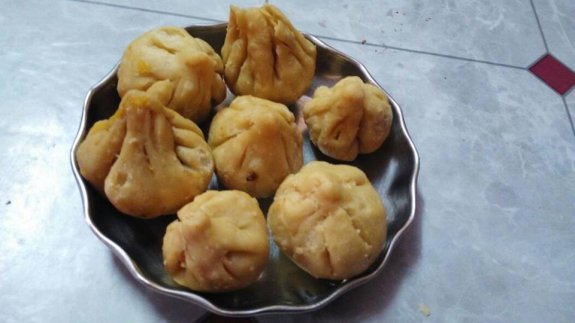 It is the time to make Ganesha's favorite recipe Modak in a fried style with sweet filling inside it. The outside covering is very crispy with chewy coconut stuffing inside it.

Ingredients
For Filling or Stuffing:
1 Cup shredded coconut, fresh
½ Cup Gur or Jaggery
¼ tsp of green cardamom powder
For the Cover or Outer Part:
½ Cup All Purpose flour or Maida
¼ Cup Semolina or Sooji or Rawa
pinch of salt
3-4 Tbsp of Milk
1 Tbsp of Oil
Another one Big bowl Oil for deep fry or shallow fry
Method
Step 1
For Filling: 1. Take a pan and add shredded coconut, jaggery and cardamom powder and mix well. 2. Turn the heat on and continuously stir it to mix everything well. 3. Jaggery will starts melt down. Cook until mixture becomes semi dry. It may take 5 minutes. 4. Do not cook for longer time otherwise the filling will become hard. 5. Now keep it aside to let it cool down. For Dough or Outer Cover: 1. Take a big bowl and add all purpose flour, semolina and salt. Mix well. 2. Add 1 Tbsp of oil and mix well with fingertips. 3. Add little milk and knead into stiff to make smooth dough. 4. Cover the dough with wet kitchen towel and let it sit for minimum 10 minutes. Make Fried Stuffed Modak: 1. After 10 minutes, remove the wet towel and knead the dough again. 2. Divide the dough into 10 equal portions. Roll each portion in a ball and flatten it with your palms. Now roll it using rolling board and rolling pin of about 4 inch diameter circle. Try to keep the edge little thinner than the center. 3. Now put some filing in the center and apply little milk or water in the edges with your finger tips. 4. Take it into your palm and start pinching the edges with your thumb and finger to make the pleats. Now bring all the pleats in the center very carefully and pinch them together to seal it. 5. Repeat the same process to make other modak. 6. Heat oil in a pan for deep or shallow frying the modak. Oil should be medium hot otherwise modak will burnt. 7. Put modak one by one in the oil and fry until modak turns into golden brown in colour and crispy from all the sides. 8. Remove it in a paper towel to release excess oil. 9. Let it cool before serving it to Lord Ganesha or to others.